Card Making Tutorials


Card Making Tutorials, made with you in mind, to help you achieve the results that you want
If a picture paints a thousand words...then how many more can a video produce?
I know many people prefer to learn by watching something being done so I hope they will give a clear step by step instruction guide, on how to achieve the subject covered.
Scroll to the bottom of this page to find links to lots of different techniques and topics ... all made especailly for you
I have created seperate sections to help you find the tutorials for the "Spellbinder Series" of videos, and another for "Colouring Techniques" that you may like to try.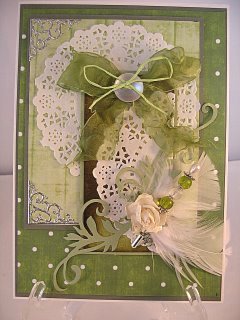 All these card making tutorials will be short and easy to follow and will cover lots of different techniques and ideas.
I will show you new folds that you can try as your confidence grows and there will be something there for all levels of cardmaker.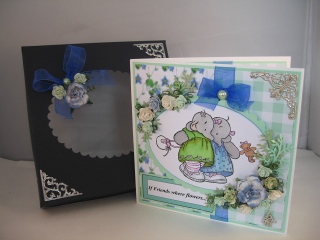 There will also be some card making tutorials that will show you how to achieve a specific card from start to finish... including the box.
Click the links to each of the Card Making Tutorials at the bottom of the page
There will be techniques covered such as heat embossing and setting eyelets, which if you are new to card making will help you understand the process.
I hope you will come back to visit these pages often.
Give the projects a go and see what you can produce, and if there is anything you need to ask drop me a line and I will do my best to answer your queries.

Card Making Tutorials
---
Spellbinder Series
 Grand Calibur Explained
Starting Your Spellbinder Collection
More From Your Spellbinders
Spellbinder Bargains
Flip Card with Spellbinders
Aperture Card with Spellbinders
Spellbinder Special
Big Cards with Spellbinders
Felt Flowers with Spellbinders
Gatefold card with Spellbinders
Alternative Spellbinders
Nestabling and Spellbinders
Pleated Card with Spellbinders
Altered Notebook with Spellbinders
Spellbinder Blossoms
Spellbinders Oval Frames
Pierced Edges and Spellbinders
Spellbinders Bauble Blossoms
Fun Cards with Spellbinders
Spellbinders Door Card Tutorial
Spellbinders Dress Form Tutorial
Spellbinders Christmas Decoration
Spellbinders Cut Fold Tuck
Spellbinders Heirloom Ornament Tutorial
Spellbinders Square Ornament Tutorial
Spellbinders Poinsettia Flower Card
Spellbinders Bracket Edge Box Tutorial
Spellbinders Hexagon Pinwheel Box
Spellbinders Floral Doily Accents and Motifs
Advent Calendar Tutorial
Keepsake Box Tutorial
Elf Shoes with Spellbinders
Spellbinders Grand Decorative Ovals Card 1
Grand Decorative Ovals Card 2
Grand decorative Ovals Card 3
Spellbinders Labels 4
Spellbinders Shapeabilities
Spellbinders Accents and Motifs
Spellbinders Matting Basics
Create a Hinged Card
Filigree Hinged Cards
Daisy Heads Flower
Faux Nesties
Creating a Frame with Spellbinders
Spellbinders Medallions Tutorial
Spellbinders Alphabet
Spellbinders Crisscross Pattern
 Heirloom Ornament 2010
Storing Your Spellbinders
Spellbinders and Parchment
Spellbinders Botanical Swirls
Locking Loops
Filigree Delight
Floral Ribbon Threader
A2 Scalloped Borders One
A2 Bracket Borders One
A2 Curved Borders One 
Spellbinders Butterfly Corner
Decorative Blossom Corner
---
Altered Art
Miniature Dress Forms
Painting Your Dress Form
Dress Form Hats
Dress Form Hat - Another Style
Dress Form Skirt
Altered Notebook
Altered Art Pringles Tub



---
Colouring Techniques
Simple Doodling Tutorial
Colouring Tutorial
Twinkling H20s Tutorial
Painting with Mica Powders Tutorial


Colouring with Distress Inks
Colouring with Distress Inks Part 1 (Skin Tones)
Colouring with Distress Inks Part 2 (Hair)
Colouring with Distress Inks Part 3 (Clothes)


Colouring with Spectrum Noir Pens
Marker Pens Storage System
Spectrum Noir Introduction
Spectrum Noir Pale Skin
Spectrum Noir Dark Skin Parts 1 & 2
Spectrum Noir Hair
Spectrum Noir Clothes Part 1
Spectrum Noir Clothes Part 2
Spectrum Noir Background
Spectrum Noir Jeans

Spectrum Noir - Colour Class
Colour Class Ice Greys
Colour Class Pale Hues
Colour Class Browns
Colour Class Greens
Colour Class Reds
Color Class Yellows
---
Return from Card Making Tutorials to Homepage




Search
Custom Search