Adding Voile to Cards

Adding Voile to cards can make them into some thing really special and this light and airy material is very easy to use
There are many patterns to choose from with glitters and foiling to make it more luxurious for you to use
Voile is a very delicate woven fabric that is sheer and yet can have the most beautiful pattern woven into it to create a beautiful effect.
The selection I am showing you were all purchased at a craft show
But it shows you the variety on offer and just how inexpensive this was to buy
There are three sheets to each pack and the offer was to buy one pack and get another one pack free

How could I resist such an offer ... and so I bought lots that can all be used for different occasions on my projects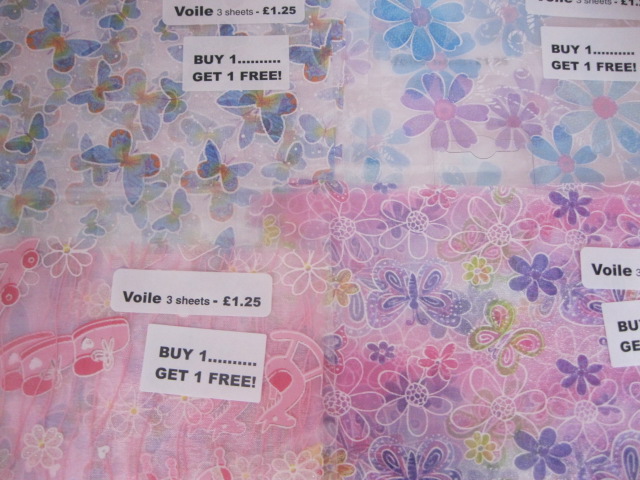 Let this short tutorial show you how this soft and delicate fabric can help you to transform your cards for a really lovely finish
One that you will find easy to do and yet you will be really happy with the result 
You will need some super strong tape for this and the one I have used is the tape that has the red backing to it 
This tape will hold the voile in place for a long time and this is also inexpensive to buy. 
Ordinary double sided tape will dry out and the voile will start to come off your cards.
But if you have a hot glue gun then you can always add the voile using this for a really strong bond that will last a really long time 
The pretty butterfly pattern on this card is in the voile sheet that I have used.

It is in a really sheer fabric that is see through for the biggest part but then the butterflies complete with glittered wings stand out from the background

Once it is teamed with matching embellishments the result can be stunning
The pretty flowers on this card are from Wild Orchid Crafts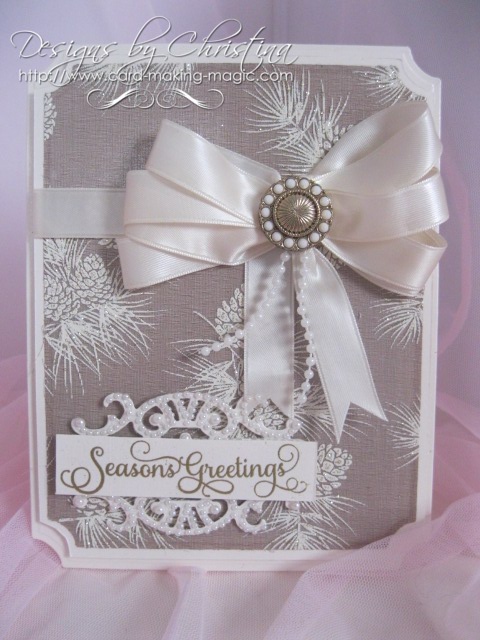 This darker voile is decorated with Pine cones and so makes a lovely finish for a Christmas Card 
Look for some in white and silver for any wedding cards that you have to make 
Or red and gold for a festive occasion. The choices are endless and the result spectacular once you get started adding voile to cards
Return from Adding Voile to Cards to Homepage