Beautiful Felt Flowers with Spellbinders
Creating beautiful Felt Flowers with Spellbinders can make your cards stand out from the rest.

They can be added to all your girly creations and they are sure to be well received. Who could resist them especially when they are made and sent with love.

Select the colours that you want to use and I have used the Spiral Blossom 1 and the Foliage dies. Spellbinders

There are several videos to help you decide which of the dies you would need and Starting your Spellbinder Collection
will give you some information that can help you make your choice when you go shopping... and you are faced with all the wonderful dies that are available to you.

These flowers can be added to any of the cards featured in the Spellbinder Series of videos.

Aperture Card
Big Cards
Flip Card with Spellbinders
Gatefold Card with Spellbinders
Nestabling and Spellbinders

---
These are some of the colours I chose and I also picked two shades of green for the leaves.

It was not expensive and it went easily through my Die Cutting Machine.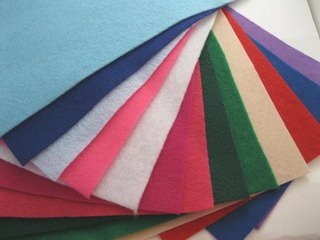 Around the edges on some others I have added glitter to make them sparkle a little.

But whatever you do even if it is to leave them as they are ... they are sure to look good when they are added to your designs.

We have made flowers from punches, ribbons, organza and paper, so I hope you will try Felt Flowers with Spellbinders for your next project.

return from Felt Flowers with Spellbinders to Homepage