Altered Art Pringles Tub


This Altered Art Pringles Tub Tutorial will show you how to make a pretty storage solution that can sit on your dressing table from this empty cardboard tube
It makes a very simple gift for any of your friends too and is so easy to make ... You just need to eat the crisps inside and that won't be too hard to do !!
How many of us bought these delicious tubs of crisps over the Christmas holidays  to sit and enjoy while watching the TV
And how many of you just tossed the empty carton into the trash can when you had eaten all the goodies inside ???
The lilac one has the addition of a base to it and it looks even better and this can be a punched or die cut or just a shop bought shape will do ... or add a paper doily to the bottom as a frilly effect

This is a lovely ways to store things in your craft room or on your dressing table, or maybe even in the bathroom.
The ideas are endless and cheap enough to make them for friends and family too
Make your self that cuppa and then settle back to watch the short  Altered Art Pringles Tub tutorial on how to get the look.
 And then no more throwing these empty tubs away any more ... shame on you how could you waste them ...
Clean the inside of the tub with a baby wipe to eliminate any lingering odours... and bits of crisps !!
Then if you add a tumble drier sheet to the inside it will smell lovely when you are finished.
Remove the sheet before you add anything to it.
The beautiful flowers on both of these tubs are from
Wild Orchid Crafts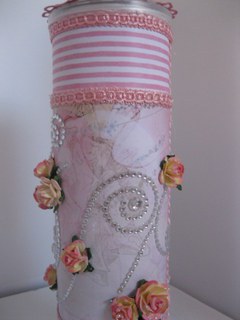 They are a mixture of Roses, Cherry Blossoms, Carnations and Tulips.
All the petals have been sparkled with Glamour Dust
You could decorate them to a more masculine theme and let the men in your life have them to store ...
 Er!  well men things in them
The luxury finish to each of them is the addition of the flourishes.
Diamanté on the pink one and pearls on the lilac one and they are from Want2Scrap

And for another idea that is pretty and feminine I have used the tubs in another way and decorated them with even more flowers from 
Wild Orchid Crafts
Take a look at 

Return from Altered Art Pringles Tub to Homepage