Crushed Flower Tutorial...
For a Really Unusual Effect.
Try the Crushed Flower Tutorial  and use some of the flowers in your garden, when they are just past their best.

Gather just a few of the flower heads for this technique, and make the pleasure of real flowers last a lot longer.
And it is such a unique and lovely look for your card designs
This card is very easy to do and it can give you some water coloured effects to your cards.
When this idea was first introduced it took many people sometime before they realised that the flowers used in the process are actually real ones from my garden.
The video is at the bottom of the page but for those of you who prefer to learn by reading, you will find the 
written instructions
Here
There you will find some more ideas on how to dress the card.

These additional touches will make your design truly individual.
You will need a die cutter to get the result, so shop around before you buy for the best deal you can get.
(You will find it to be a very useful addition to your crafting stash for many many uses and for many years)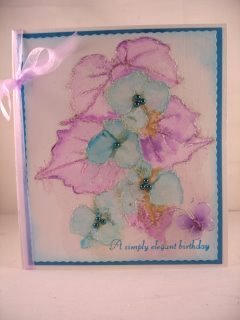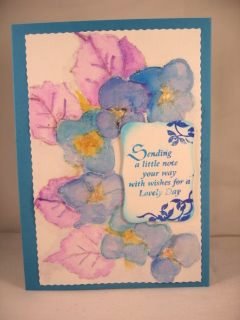 Experiment with different flowers and colours, as they all produce unusual effects.
But please be forewarned that this is a very messy process so cover the surrounding area too.
And don't expect the pressed flower colour to look anything like the original flower ... it won't .. it will look totally different.  
For instance the white flower that you have used may look lilac or pink at the end of the process. but it all makes for a pleasant surprise.
When you have done the technique pop it to one side, and then once the crushed flower panel is dry  you can layer it onto some Specialised card to bring out the beauty in your creation.
Trace around the flower shape with a glue pen and sprinkle some glitter on to it to enhance the petals.
I have used Distress Inks to add a water colour effect to the flowers too.
And in some gemstones, pearls or even buttons to the flower centres for another look.
I hope you enjoy this  Crushed Flower Tutorial, and although the technique is a bit messy... the result is well worth it in the end.
And the recipient will think you are a whiz with a water colour brush...but we know! don't we???

Here is the video for you to enjoy.
Return from Crushed Flower Tutorial to Homepage