Dress Form Hat Another Style
This Dress Form Hat Another Style is for you to add to your collection of pretty things to dress your own mannequin in, and gives you an alternative style for the hat you may want to add.
In the short video  Dress Form Hats  I showed you how I created the hat that has a domed crown, like the one on the right of the picture below.
The video took you step by step through what you need to do to make that particula hat.
But this one is a little different in it's style and yet the completed hat is just as stunning when added to your mannequin.

The picture on the left shows you the height of the crown to the hat, and this can be as deep as you wish to make it... the video will show you how.
You can see how the hat looks on the dress form here and the height that I have given  has been given to the crown.
It makes for an unusual look, very similar to the Victorian type of hats, worn by the ladies of society in the last century.
I have even added in some small hat pins to complete the look.
These two have been decorated in different ways to make them look very very luxurious... even though the felt fabric is the same.
The one on the left has beaded trim and feathers with polka dot ribbon. 
The little flowers on both are from Wild Orchid Crafts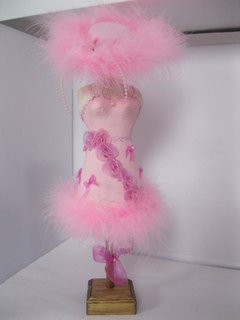 The one on the right has a Marabou Feather Trim to match that added to the Painted Dress Form.
The fabric I have used for most of the hats has been felt, as this is very easy to work with, and it gives a lovely finished effect.
The stand was created by my "Film Crew" and I have added in the Hat pegs to all of the dress forms featured in these tutorials.
That just means that the any style of hat can be added to the forms by balancing them on the pegs and they won't fall off as it stands.
I like to tilt my hats at an angle as if to hide the face 
It makes for a really petty effect  to the Dress form especially when it matched the design.
To make your Dress Forms really special please don't forget to also view ...
 Miniature Dress Forms
Dress Form Skirt
I have made these for my granddaughters to stand on their dressing tables in the colours they chose to suit their décor.
Return from Dress Form Hat Another Style to Homepage