Concertina Card Tutorial
This Concertina Card Tutorial is here for you if you would like to make a different styled cards.  
It is sure to get some comments from the recipient and is not as hard to make as it at first seems. 

We all start off in our cardmaking adventure by just folding a sheet of card in half.
Then we start adding anything that we have  in our "Stash" that we think will look OK.
But eventually we  all get a bit bored with making the same fold over and over again and so we look for something to fire our imaginations.
You will find many unusual folds in the   Easy Projects  and the  Tutorials section   and none of them are hard to do
If you prefer to read how to make this card then you will also find the Written Instructions.
I have used some double sided card to make mine as this will give a neat effect to the back of the card.
But you can also make it from plain cardstock and decorate it as you wish.
And because this card has movement when it is opened it is referred to as a Kinetic Card   
You will find many more in that section too that you may like to try.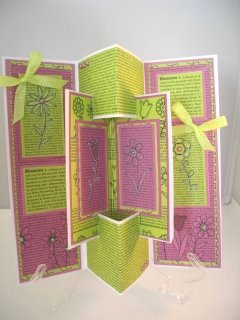 So grab a cuppa and make yourself comfortable to watch the short tutorial on this interesting little card.

You will need to make sure that the cardstock that you use is of a  heavy enough weight to stand up by itself ... as the last thing you want is for the card to keep falling over for your recipient.
Then if you evenly distribute  around the card any embellishments that you may add it will also help to prevent this,  and  make it as pretty as you want.
It is one of those cards that will suit any occasion and because it folds up it will fit into an ordinary sized envelope and so save on postage too.
Making this card with your children will keep them amused for ages, what a good way to spend a wet afternoon,  and once finished  they will be able to send the finished card  to their friends.
Maybe as invites to a birthday party.
I hope you won't be daunted by the shape and think it is too difficult. It isn't  so please give this fold a try, as the instructions are short and easy to follow.
Return from Concertina Card Tutorial to Homepage