Spectrum Noir Clothes Part 1
Spectrum Noir Clothes Part 1 will show you some little tips to get the best with your colouring.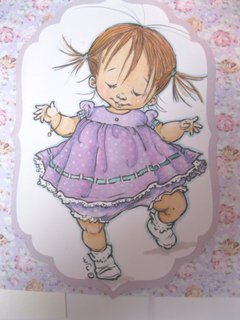 In the previous videos I have tried to show you how to get the look you want for your images.
It really doesn't matter what kind of character you have in your "Stash" they all need skin and getting it right is important.
The video Spectrum Noir Pale Skin showed you how to get the peaches and cream complexion for this image from Mo's Digital Pencil
And also the Darker Skin Tones
Then having got the skin how we wanted it ... the next step was the hair and so Spectrum Noir Hair was added.
This one is a continuation of the series and in this we will dress our baby in a very pretty way ... and there are some neat tricks with the blender pen too.
Then follow on with

I have still only used the Spectrum Noir pens that are available in the six pen sets.
Hopefully that will show you that there is enough in those sets to give you many beautiful blends to enhance all your work.
For more ideas take a look at the videos in the
Colour Class Series

Because of the restrictions within YouTube the video has had to be divided into two parts and this is the first for you to enjoy.
It covers creating a plain white dress with shading and then the same technique on a coloured dress.
It is easy to achieve and the simplest ways to create folds in the material and of course the colours can be any of your choice.



Spectrum Noir Clothes Part 1 is the first part of the dress ...
Part 2 will show you some neat ideas for another look with the blender pen and I hope you will come up with many more of your.

Also in this series I would like to cover other aspects of clothing ... like jeans ... and darker skin tones as these are some of the areas that people get stuck on,
I am not a trained artist but these are some of the things that work for me and if I can help you to get the results you strive for then I will have reached my goal.
Return from Spectrum Noir Clothes Part 1 to Homepage