Gilding Flakes Tutorial

A Gilding Flakes Tutorial to show you how to get this opulent look  to your cards and give them that something special to look at.
It is another idea that can make your cards stand out from the crowd and it is easy to achieve.
There are a lot of different ways to use them and this is just one technique you may like to try for yourself. You do not need heat to try this method of adding the flakes
You can see another stunning way to use these flakes in the Mosaic Card Tutorial  and that will take you step by step on how to get the look for yourself very easily.
Another way is to use them with any of the stamps that you may already have and the video Gilding Flakes and Stamps will show you how... though you will need some wet glue to use them that way. I use a small sponge to apply the wet glue to the stamp and that way it doesn't get too messy.
Leave them at room temperature for a little while and then when they get warm they will swell and give you twice as many as you thought you had.
But for goodness sake do not sneeze near them or have the air conditioning on, or even an open window .
You can also buy a product called Flake and Glitter Glue that will help you with the flakes if you want to use your stamps with them as I mentioned earlier.
Using the gilding sheets will cover a large area and you can get specialized glue to add them to your project.
Keep some double sided sticky sheets in you stash as they will always come in handy throughout the crafting process.
And the Gilding Flakes Tutorial will take you step by step on how to use the sheet with the flakes to get another lovely effect for your designs.
On a completely different approach you can find lots more ways to use gilding foils if you have a hot foil machine and there are lots on the market, so be sure to shop around for one in your price range.
Craft Stash has many foil machines and products that you may like to take a look at. 
Foiling Machines & Accessories 
This is a whole new area using hot foiling and to learn more about gilding and foiling try clicking this link ... Personalised Foiling  
This will take you to a whole new page on foiling and when you feel ready to give it a try there is a lot of information for you to view.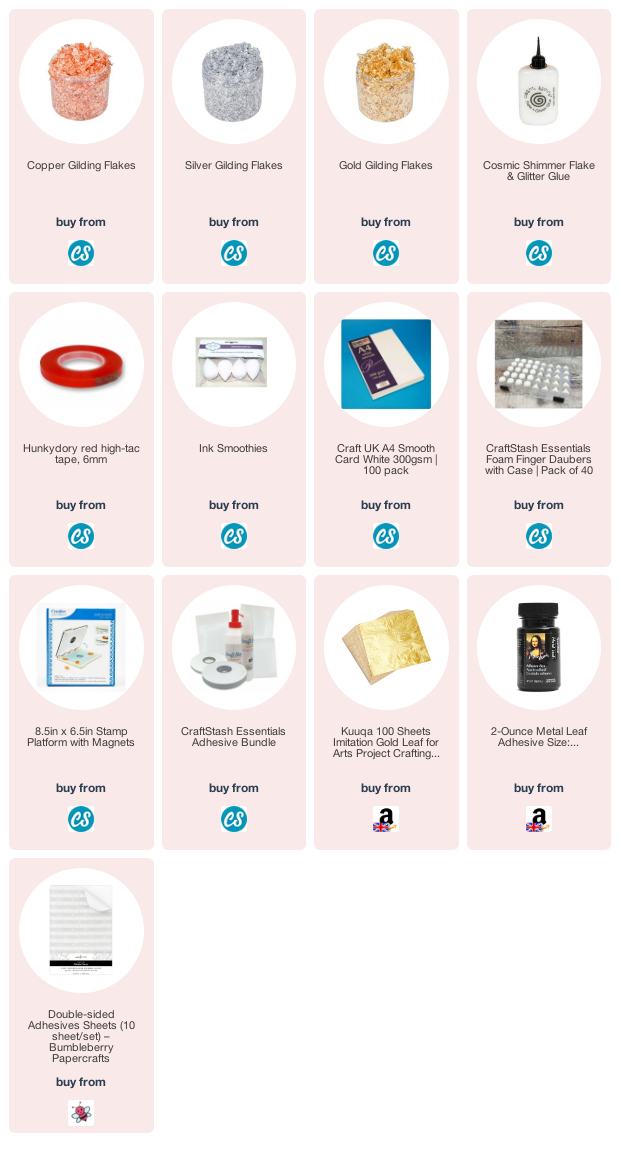 Return from Gilding Flakes Tutorial to Homepage