Spellbinders Door Card Tutorial
This video is the Spellbinders Door Card Tutorial and it will show you how to get the look you want for this pretty little card
The number on the front of the door can be a birthday or anniversary number and the card is suitable for male or female, just dress is up to suit the recipient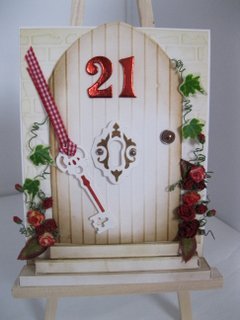 The Spellbinders Door Card has been added to the website in written instructions for those that prefer to learn by reading... click the link if that is your style of leaning and follow the steps to make the card.
They will guide you through each stage to get the look that you want to achieve on your card.
I have been explicit in the steps and tried to keep them as easy to follow as I could.
But as always there are those that prefer to watch something being done ... and so here is the video format ... just for you.
 I hope you will enjoy it and give this design a try for yourself as it suits all ages and occasions.
Leave off the flowers and it would be suitable for your male cards too.
---
---
Make yourself a cuppa and grab a biscuit or two ... or three ... and settle down to watch this short tutorial and I think you will like the finished card.

This is surely the fun side to card making and making the most of all your Spellbinders.
I am hoping to add more "Fun Cards" in the coming months and tempt you with some delightful ideas for you to re create for yourself. The Spellbinders Door Card Tutorial is just one of them.
And if you are new to working with Spellbinders then you will find lots of tutorials in the Spellbinder Series to help you choose the dies you may like and then to use the dies in the best possible way.
I know that they are not cheap to buy and so we need to look at as many ways as we can to use any one particular die. If you have a particular die and you aren't sure what to do with it ... then drop me a line and if i have the die then maybe I can help you with it
There are many fun shapes that can be added to your designs but you may have to search online for some that could now be discontinued from the Spellbinders website
Return from Spellbinders Door Card Tutorial to Homepage