Spectrum Noir
Colour Class Browns
This introduces you to the Colour Class Browns which is another of the six pens sets from Spectrum Noir. 
They are Alcohol Marker Pens and they come in may colours 

They are a very easy set to work with that can produce different effects for hair and fur on many of the animal images that you may want to add to your cards.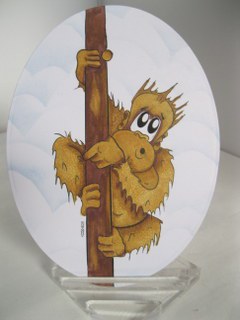 There are links to more tutorials on other aspects of colouring on that page and all will tell you clearly how to get the end result.


This short video will help you to gain the confidence you need to pick up those pens that you have been hoarding and get to work.

The image used is from the CD "The Next Big Thing"
from  Just Inklined  and there are some really cute characters on there for you to colour.
You may have to shop around for the CD now as it is no longer on general sale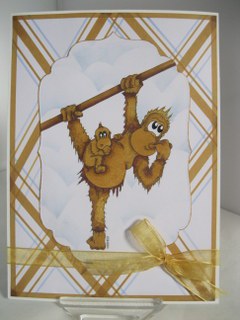 The background to this image has also been created with the same pens used to colour the monkey.
All you need is a ruler to help you draw the straight lines.
You can have a backing paper that matches any colour scheme that you decide to use.
Never again rummage around for a paper to go with what you have coloured ... just use the pens and away you go.
There is also a tutorial that will show you how to create another type of backing and that one uses some Acetate

Your pens are so versatile that you will want to practise with them whenever you can and the backing is one way to see just what you can achieve with them
Spectrum Noir Background creates a special kind of look to your designs.
These pens are created by crafters for crafters and they are well worth researching as they are a good alternative to the more expensive alcohol markers, and you can achieve a similar kind of look for all your projects. 
Practise makes perfect and maybe once you have gained that confidence you may very well wish to purchase the more expensive brands but for now keep playing with Spectrum Noir and enjoy the colouring process using the Colour Class Browns to help you
Return from Colour Class Browns to Homepage