Twisted Easel Tutorial...
To create another lovely card.
Follow this step by step Twisted Easel Tutorial and see the results you can come up with.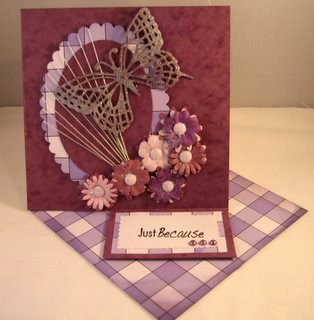 Easel Cards are one of the more popular folds in the cardmaking arena at present and they really give a different look to your creations.

I have covered several variations on how to make them, and this video will help you to see how to make this particular card for yourself.
If your way of learning is to read then this is where you will find the Written Instructions.
Try the other styles, Double Easel Card ... Double Twisted Card ... Triple Easel Card ... Triple Twisted Easel.

All these give an added boost to your cardmaking skills and they are an easy and enjoyable card to make.

The recipient will be as delighted with the result as you are.

You can of course alter the size, make it larger or smaller if you wish, but this one will fit into a standard sized envelope and so save on postage too.

If you are going to add lots of dimension to the front then you will need to send it in a Box.

You can make the card for any occasion and dress it up accordingly with any "Bling" that you have in your stash.

A suitable sentiment for the card can be added to the back of the easel.

Make a pretty label and add it to the downward triangle at the back, so as not spoil the look of the front of the card.

It is style that can be made for your male cards too and it is sure to please.

Have fun!

Return from Twisted Easel Tutorial to Homepage

Search
Custom Search