Beautiful Flip Card With Spellbinders
 Make this Flip Card with Spellbinders for your self and "Wow" the recipient.

This beautiful card is very easy to do and it uses the same set of dies that I introduced you to in the video Starting your Spellbinder Collection

It was a set of dies that would create everything you would need to make stunning cards ... from the background to the topper.

Now once you have those dies you need to get as much use out of them as you can and so the second video was introduced ...
More from your Spellbinders

So in this video I am still using the same set of dies ... but I would like to show you how to make a more specialised card that is a stunner.

But if you don't have Spellbinders then don't worry because with the instructions here you can still make the same style Flip Card.

Other ideas for you to try are
Gatefold Card with Spellbinders
Felt Flowers with Spellbinders
Aperture Card
Big Cards with Spellbinders
Alternative Spellbinders
Nestabling and Spellbinders

These dies are just my idea of a starter set, but of course you can use any dies that you have in your "Stash" ... and there are lots of beautiful dies to choose from.

But by choosing one from each category you will have a good grounding for any style of card you may wish to make.

I have made the same style card using the Fluer Di Lis dies and it was just as beautiful when it was done.

The thing is not to be afraid to experiment with the dies that you have in your own personal collection and see what you can come up with.

Look at them in different ways, cut them out of scrap card first and layer them up to see what they look like. Don't just use them as they are.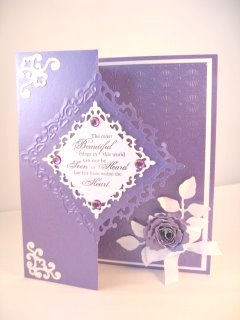 Get your scissors out and cut some of them up for another look to your cards and most of all have fun while you play with these amazing dies. You won't be disappointed with any of them.

Return from Flip Card with Spellbinders to Homepage

Search
Custom Search