Cardmaking Template...
...another useful addition to your skills.
Creating a particular cardmaking template can help you to make some really stunning cards.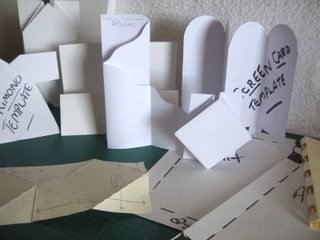 Throughout many of the projects and tutorials on this website, I have advised that you make of the most of using templates.
They will help you to see the required measurements, and it allows you to build up your confidence as you make them.
Use old card, and make your lines and instructions as bold as you can so that you will see what you need to follow.
And then store them safely in your folder to be re-used again and again whenever you need them.
This is particularly useful if it has been sometime since you did a project, and you need a little refresher on what to do.


You can buy templates in many shapes and sizes, and from many different sources and some are really spectacular...and complicated...and expensive!
But sometimes just a simple idea can be helped along a lot cheaper, and this is the time when making your own can come into play.
This Bow front Card has been created using one I made, and the result is very pretty.
Label them and store them in a ring binder and keep them close to hand for whenever you need a new card and you're stuck for ideas.
Click the links to take you to more projects that you can make your own templates for.
Make your shapes from everyday objects like plates or CD's, square boxes or oblongs.... any thing that you can draw around will create the shape you may need.
And Here are the instructions to make a lovely box to fit the Bow Front Card.

Paper Roses Template
Kinetic Cards
Heart Shaped Template
Baby Pram Card
Fauxbook Card
Diamond fold card
Diamond Top Card
Easy Stepper Card
Side step Card
Double side step Card
Simple Pop Out Card
Screenfold Card
Kimono Card
Special Card Box
Wedge Box
Papercrafts
Easy Cardmaking Projects
Useful resources
View all Pages and Topics
Return from Cardmaking Templates to Homepage