Making a Frame Tutorial

This Making a Frame Tutorial will show you how to get this look for your cards and it couldn't be easier ... but you will need to do some measuring to create it.
 Then once you have the frame what you fill it with can make the difference to your designs.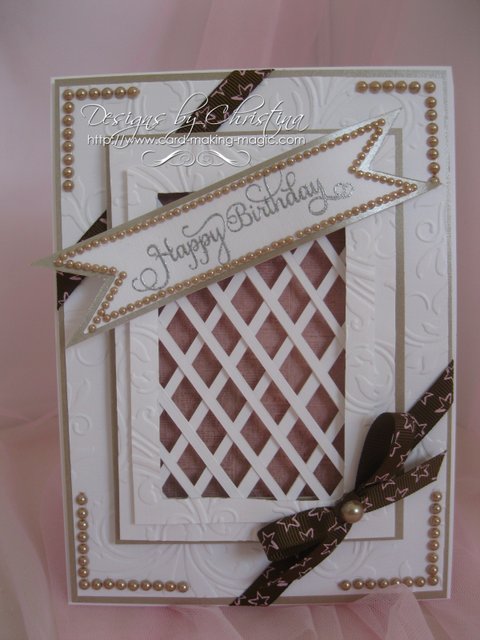 There are many styles of cards on the website that show you how to use Spellbinders which many many people are collecting by the dozen.
But I do appreciate that although they take a lot of the work out of making the card, they are  not always available to people.
Maybe they are hard to get hold of in your part of the world or perhaps it is the cost that is the prohibitive factor.
So there are many other tutorials on the website that will show you how to create that stunning design without the aid of a die of any description.
The Sitemap is a list of every page that is on the website.
Have a look in the Tutorials and the special section for Spellbinders.
This lovely card is created easily and every part of it is made quite simply by hand cutting the card.

I have used a craft knife and a metal ruler to get the look and the video will take you through all the different steps that you will need to follow to get the look for yourself.
The embossing folder is the 8 x8" Regency Swirls from Crafters Companion and it is a really deep pattern for the background.
The "Happy Birthday" sentiment is from JustRite Stampers
The side view of the card shows you the depth that you can create with your frame and the  layers that have been used to make it.
The card I have used is a 290gsm weight which is sturdy enough to make the card stand.
The Pearl card is Centura Pearl and that too is a good card to use for all your designs.
The self adhesive Pearls that I have used for decoration are from Want2Scrap  and are called La Creme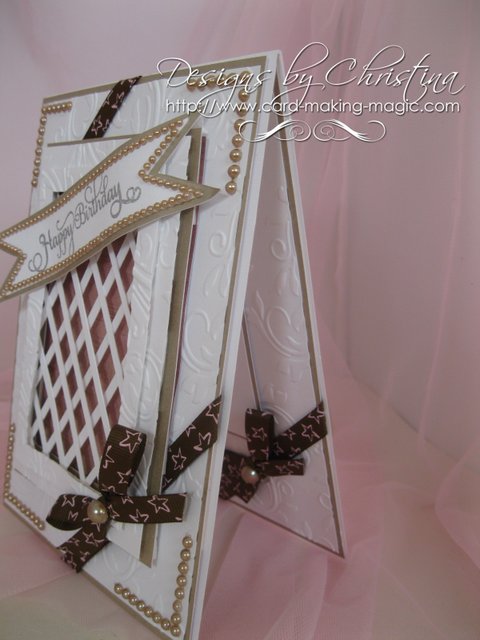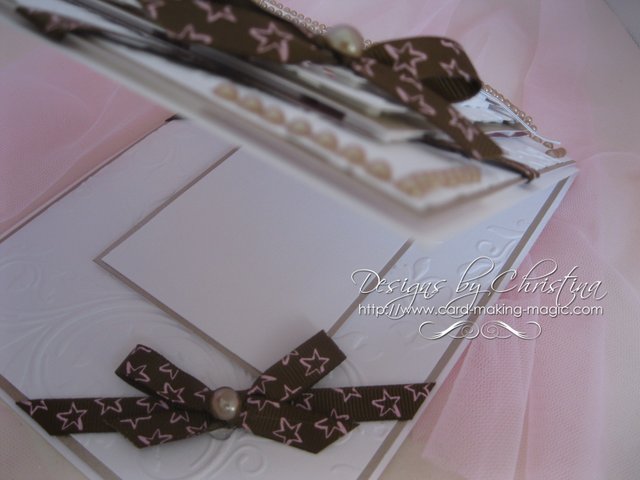 And don't forget to give some consideration to the inside of the card too.
For this one I have merely mirrored the front of the card with the embossed panel. .. but added in an extra panel for a verse, sentiment or simply a signature
The ribbon is from Really Reasonable Ribbon and has small pink stars on the brown Grosgrain

And if you do have some Spellbinders then you can make the frame by following this tutorial ...   Creating  a Frame with Spellbinders 
But whether you use that method or this Making a Frame Tutorial you are sure to have a beautiful card
Return from Making a Frame Tutorial to Homepage