Basic Cardfolds Tutorial ...
... to get you started

Start with this Basic Cardfolds Tutorial, to add the interest to your project, and then decorate to your hearts content.
Many beginners buy their cards ready folded, complete with envelopes, in packs and it is a good way to start.
The packs may have many cards in them and they often have different colours and different finishes to the card too so they can be a real bargain... as they seem cheap.
But that is by far the most expensive way to buy them ... because it is usually inferior quality card.
Buying card stock in blank A4 sheets is better but then when they get it home they wonder where on earth they are going to start.

We have all probably started with the single fold in the A4 card, and made some very lovely cards.
This one easy fold makes a standard A5 card.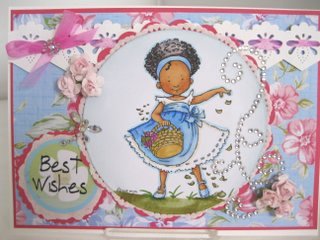 It is probably the fold that most people return to time after time as you don't need to think about what to do...just fold and make.
I know I use it regularly for my cards. The pictured card is just such a one with the fold at the top and commonly called a tent fold.
But after a while it can start to get just a little bit boring and we need some adventure in our day.
And also as your confidence grows you will want to do something a little more with the card stock that you have.
So where do we go to next?
Start by watching the Basic Cardfolds Tutorial
Here are some easy to achieve ideas on how to create lots of different folds that will keep your interest in cardmaking alive.

The video is a very short one but it will show you just some of the basics, there are many many more for us to experiment with as we grow and learn.
And you will find many of these folds used throughout the website on various projects... and as you practise you will recognise them for your self.
Once you have some of these ideas to work on under your belt then why not visit the Easy Projects section for some ways to utilise these folds.
There are many ideas in both that section and the More Projects and don't forget Papercrafts

You will find lots of things to keep your interest and your imagination alive and the Basic Cardfolds Tutorial will set you off on the correct path.
There are many tutorials that will help you along the way and more get added on a regular basis. So get your self a cuppa and take the time to browse around the website.
Explore all the different categories and you are sure to find something that you like.
Please remember that although they may seem complicated to you at first they are all easy to do and that there is nothing that YOU can't achieve for yourself.

Easy Card Fold 
(with or without dies)
Return from Basic Cardfolds Tutorial to Homepage