Tilt Card Tutorial ...
from three easy folds.
 The Tilt Card Tutorial will show you how to get this simple design for yourself

Quickly and easily make it as a last minute stand in for those late requests.

It will please you and the person you make it for without any stress what so ever.

And that makes it a good card fold to keep up your sleeve ... and one you are sure to return to time and time again.

From one piece of card you can make this and then decorate it to suit the person you are sending it to.

This card has had the panels run through an

Embossing folder to create more interest to them and you can add the texture in the same way with Using Masks

Both ideas just stop the card from being to plain.

And to make the Tilt Card special I have made the addition of a beautiful Hatpin.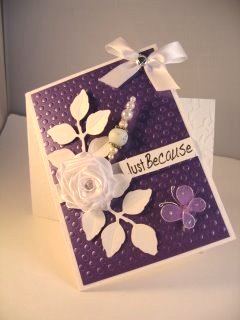 ---
---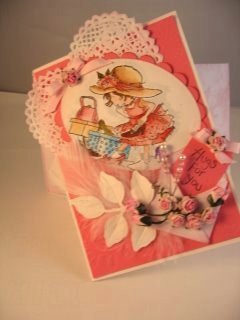 Whatever you decide to do to the basic card it will look good.

This image is from Lili of the Valley

It has been water coloured with

Distress Inks and to help you with this you will find a series of three videos on how to colour skin, hair and clothes in the Tutorials.

The Doyley behind the image is something that is taking the card making arena by storm and you will other ways to use these in Paper Lace.

The feathers and flowers all add that finishing touch to what is a very girly card.

The leaves can either be punched out or die cut as I have done for this card with the Foliage set from

Spellbinders. I hope you enjoy this Tilt Card Tutorial and will add your cards to the Gallery Page

Return from Tilt Card Tutorial to Homepage

Search
Custom Search