Acetate Flower Tutorial

This step by step Acetate Flower Tutorial is easy to follow, and the project is a pretty addition to your cards.
Acetate is a very versatile product and it comes in different weights.
But basically all you need to feel is the thickness of it.
The thicker kind can be used to make a complete card or as an addition to others areas on your designs
It can also be used to make an excellent complete box to showcase the card inside.

The thinner sort can also be used as apertures in the card or the box lid, and can be used to make flowers, butterflies and snowflakes amongst many other things.
For this project I have used some printable acetate that can be bought from most craft shops or even stationery stores.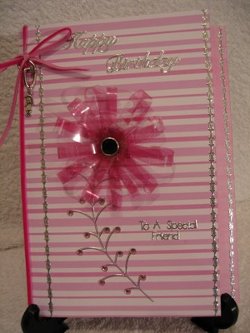 It is Printable and the acetate is smooth on one side and rough on the other. It is the rough side that you will need to print onto. It will go through an ordinary inkjet printer with no trouble at all.

It isn't expensive and can be used to print off all kinds of things... but you will need to allow the ink to dry for a short time before you start to touch it so that it doesn't smear the ink.
Some more ideas can be found in Acetate, and this short video shows you how to make the flower featured on the birthday card.
You can vary the length and width of the strips to suit your project, and smaller flowers look pretty on gift bags or attached to tags. The possibilities are there for you to experiment.
I enjoy adding all kinds of flowers on my cards but this one is just that little bit different. You can print the flower in different colors to suit your needs

The Acetate Flower Tutorial is just one idea for you to try and I am sure that you will come up with many many more as you start to play.
By varying the size that you cut the acetate strips will determine the size of your flower. So experiment and see what you like the best.
Various types of Acetate are available from Crafters Companion and they make a really heavy weight one called Construction Acetate that is wonderful for making boxes to add your gifts too. 
Return from Acetate Flower Tutorial to Homepage