Spectrum Noir
Colour Class Greens
Colour Class Greens  is another tutorial on the Spectrum Noir Alcohol pens.
I have used just a few pens from the basic six pen set and you will be amazed at the effects you can get from just a small selection.
Don't be afraid to try them. Experiment with the pens and the more you practise the better you will become.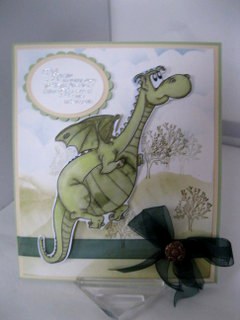 Spectrum Noir Introduction  will show you how the pens work and explain to you how to refill them and change the nibs.

They are a pen that is within most Crafters price range and they are developed by Crafters Companion
If you are new to working with Alcohol pens then my advice would be to start small and  add to your collection as you grow.
The other videos in this Colour Class Series are ...
Browns
Pale Hues
Ice Greys
Reds
---
---
There are several video tutorials showing you how to get the most from your pens ...including colouring Pale and Dark SkinTones
None of the videos are long ... just enough time to enjoy a cuppa as you watch. 

The images for all the tutorials are from the CD "The Next Big Thing" from   Just Inklined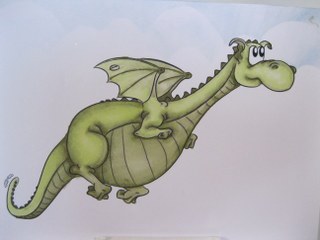 The background to the image is shown in the  Creating Clouds  
 It gives a very atmospheric look to any thing with wings ... including Dragons.
Have fun and enjoy what you are doing. Think of how many hours you may have spent colouring in as a child.
How absorbed you became in the look that you wanted to achieve and most of all how much you enjoyed it.
As we get older we forget the joys of colouring and we become obsessed with the thought that it isn't good enough.
Children don't think like that and neither should we ... just get lost in the moment.
And remember that you can't rush Alcohol pens ... just blend carefully and the result will be good.  Just let the videos show you how.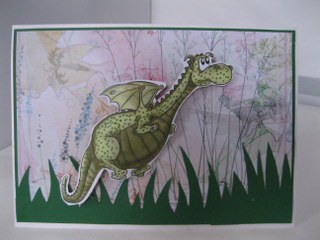 Once you have your image blended to your liking then think of other ways to bring interest to your design.
For this Dragon I have used the darker green and simply added some spots to his skin.
The grass is just freehand cut from green card and glued to the front for another effect.


Then you can add in any embellishments that you have in your "Stash" and make the look different each time you colour.
Start with the Colour Class Greens and work your way through the others in the series.
By then you should have a good grounding on the pens and your confidence will grow too.
Return from Colour Class Greens to Homepage