Another fun project...
A Diaper Fold Card...and no need for a pin!!

There are lots of different folds for you to try ... but this Diaper Fold Card is super easy ... you don't even need the glue.
These little cards are really easy to do and they can be used for a multitude of occasions.
Fill them with sweeties for a childrens party. Add a small gift to them, or add an insert and use them as invitations.
You don't need any thing else but card, and some Bling!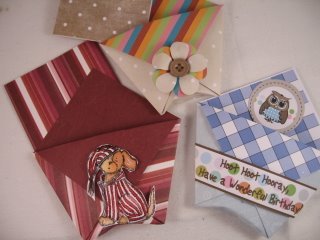 Step 1
You will need card that has a pattern on both sides.
Suit the colour to the occasion, and the recipient. 
Step 2
Cut the card into a square.
The size depends on what you want to use it for. You can use a 30 x 30cms (12 x12") scrapbook card if you wish.
My card is cut to a 20 x 20cms (8 x8") square.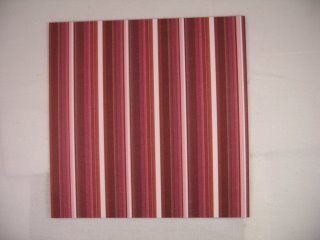 Step 3
Whichever side you want to be seen the most then place it face down, and fold the card on the diagonal.
I wanted the Gingham on the inside, and this is one of the
free backing papers,
that I have designed. 
Step 4
Take one of the points of the card and fold it towards the fold.
Open it out again and you will now have a crease.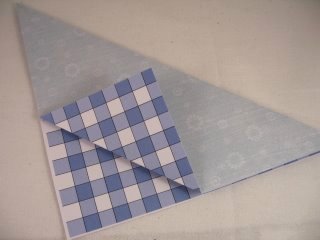 Step 5
Into that crease we will now fold one of the outside corners... 
Step 6

...then take the other corner and fold this into the same crease line.
Make sure the folds are sharp and then fold the top triangle back down over the other two.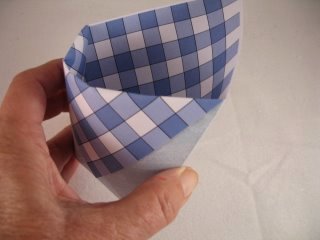 Step 7
You will now have what looks like a little cone and this can be filled with whatever you want.
Hold the cone with your fingers inside, and gently push up the bottom of it to give it a bowed effect.
If you also fold down the other triangular flap to close the cone then you could fill it with confetti for a wedding.
It could also be filled with almonds and used as Wedding favour boxes.
Add Velcro dots to keep it closed, and dress it in pretty flowers or gemstones. 
Another option would be to make small card inserts and use these a invitations.
Add the time, date and venue inside and place into the pocket part of the card.
Get your imagination working and see what you come up. 
But whatever you do have fun with this easy Diaper Fold Card.
It is so easy to make that children will enjoy the project too.
The owl and the centre band on this card are from a
PolkaDoodles  CD
Easy Projects

More Cardmaking Projects

Papercrafts

Novelty Cards

Kinetic Cards

Ideas

Occasions

Cardmaking Tutorials


Return from Diaper Fold Card to Homepage