Spectrum Noir Jeans
Most teenagers wear jeans and T-shirts... and so this Video Tutorial Spectrum Noir Jeans will help you to get the look you want.
But lots of people, of any age group, like to relax in the same kind of outfit as it is so comfortable.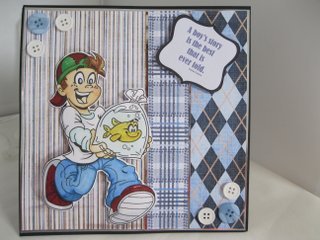 And so I thought that the way to go was to dress these young boy characters in the things they like to wear.
Especially useful if you are making a card for the teenage generation.
This fabulous image is from KennyK Stamps  and you will find some really unusual characters from this talented artist.
You are sure to be spoilt for choice when you visit his website so make sure to have a good browse around.
Spectrum Noir Introduction will explain the pens to you if you are new to this style of colouring and there are several more in the series for you to see.
---
---
But of course your Jeans jeans don't have to be just blue.
With other colour blends from the pen system you can make your Jeans any colour that you want.
I have done several samples to help you see some of the differences that you can achieve for yourself and if you have other sets then your choice is widened even more.
The principal of colouring any of them is basically the same so go ahead and be adventurous with the jeans that you add to your images.
So here you have ...
Blue, green, brown and black.
The pens that have been used have been included to help you with the blends and the video will show you how to get some variation into the look... and of course jeans can be for either boy of girl.
You can buy the pens from most good Craft outlets or direct from
Crafters Companion

Return from Spectrum Noir Jeans to Homepage