Christina Collection 
It gives me great pleasure to introduce you to the
Christina Collection from Card Making Magic
This is a Complete Card & Box Die Set that will give you 5x7" cards that will fit perfectly into their own box eveytime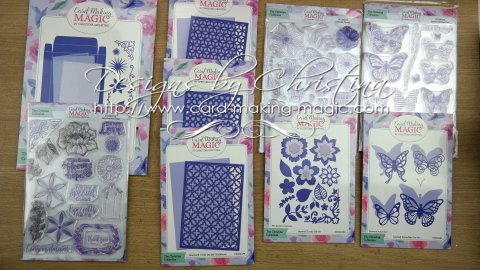 I was so excited when I was asked by Craft Stash if I would like to bring to the market my own collection of dies, stamps and stencils and who would say "No" to an offer like that.
The idea for the box has been in my head for quite some time but at long last it is now a reality that can be put to use and give you matching cards and boxes that are perfect every time you use the dies

To see it transformed into tangible products is such a good feeling and we are already working on the next phase.
This new concept is exclusive to Craft Stash which is UK company.
But they are happy to ship worldwide and they will accept PayPal too so if you would like to make your own gift boxes ... and not just for cards either then this is the set for you.
There are add-ons to the set that you can use with the card and box or they are completely stand alone products that you can use for other things you may want to make
The Trellis dies are in two parts to make a mat as well as the design that can be used separately or left in the card.
Which means that you can add these patterns to your box front and if you add acetate to the back of it then you will have a really sturdy box that you can see the card through
The videos introduce the collection and then second one will show you how to create the box in two different ways
Here are some of the other vidoes that will give you more ideas on how to use them and I will be adding new ones as I make the cards
Silver Butterflies (One for the men)
Don't forget if you use any of my new collection then please add them to the Gallery Pages where you add four picture of your makes so that every one can see your designs.
And if you do buy it then I hope it gives you as much pleasure to play with it as it did me to design it for you.
---
---