Spectrum Noir Background
Spectrum Noir Background will help you to create an effect to finish the card that matches your colour scheme perfectly everytime
So the image is now coloured in as you like it and all the videos in this series have helped you so far ...
There is now also a Colour Class Series for ideas on how to use the six pen sets



Using the same colour palette that you used for the image lets create a lovely Spectrum Noir Background to mat and layer ready to add to your creation.
You will need some Acetate, Blending Solution and some cotton wool balls (or a blending tool) for this and some paper underneath to protect the work top ... it can get messy ... well I get messy !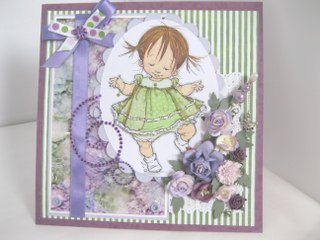 A little tip ... use the darker pen colours for this technique ... the paler colours will be too feint and won't show up on your acetate.
There is no specific way to add the colours ... just choose the ones to match your chosen scheme and scribble away on to the acetate.
(I think the "technical term" I used in the video is "PLOP" the colours on ....Oh! well you know what I mean )
Should one pen pick up the colour from another then don't worry ... just scribble onto a clean sheet of paper until the colour runs back to the original and there you are ... good as new.
Another tip ... is to choose what you back your acetate onto carefully as it can make all the difference to the look. I usually keep mine to a white mat as this allows the colours to show as they are.
But adding it to a matching colour or even silver or gold mirror card can make all the difference to the finished effect... and I must admit that silver is a very pretty and rich finish that you may want to try.
I think that this Spectrum Noir Background is a really good way to make the most of these lovely pens and get a finish that you know will always match and compliment the card you are making.
They can also be used to colour the ribbon and any embellishments that you add such as the Brads or the Eyelets that you attach the acetate with.
They can also be used to give a lovely edge to white flowers and i am sure you will come up with many more ways to use the Spectrum Noir pens.
Take a look at the Crafters Companion website to purchase the pen sets and also to download the colour charts that are available to you.
Return from Spectrum Noir Background to Homepage