Origami Box Tutorial
Part 1 The Base
Part 2 The Top

This Origami Box Tutorial will show you easy it is to make your own stunning creations in simple and easy to follow steps.
Finding a pretty box in which to send small gifts can be quite expensive especially if that box has been decorated already.
Often it will stop you in your tracks and make you turn to the cheaper option of an undecorated one.
But then what do you do with it????
Well! You can always dress up that box yourself from embellishments that you already have in your "Stash" .... or you can make your own from scratch and get it exactly how you want it.
All the pearls and gemstones used in the making of these boxes are from Want2Scrap



---
---


So this tutorial ... which is in two parts ... will show you how to create first the base from one sheet of 12"x12" double sided paper.
And then a lovely lid that will fit any of these Origami Boxes that you make.


Make sure that you use a good quailty paper or thin card because it will be folded several times and so it needs some substance to it.
Poor quality stuff will just tear and look shabby and the last thing you want is for your box to fall apart when you give it.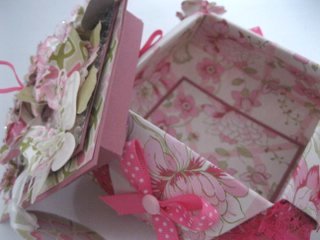 By using a double sided paper means that the inside will be just as pretty as the out.
And you can even line the base to give it more strength.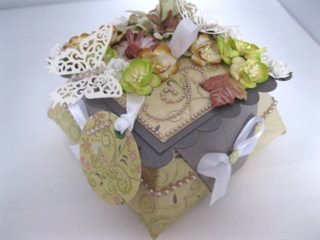 Create this in any colours that you have and make them to match the seasons.
They can also be used as storage and make very pretty additions to your bathroom shelf or dressing table.
But most of all have fun both making and using them.

Return from Origami Box Tutorial to Homepage