Shaker Card Tutorial
 A very popular card to make and one that will get the comments.

This Shaker Card Tutorial will show you how.

A Shaker Card that is sure to get approval from your recipients, and one that is very easy to make.

To make the card you will need some double sided and shaker tape plus a small piece of Acetate.
Select some co-ordinating papers, and the all important embellishments you would like to add to your card and lets get started.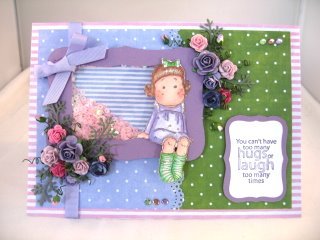 I have used an A4 card folded in half for the base, and I stamped and printed my image and then coloured it with Promarkers.

If you would like to read the instructions you will find them here

Don't worry if you don't have any of the Spellbinders.

Any diecut, punched or bought frame will do just as well.

Or look at other ways to produce the shape you want and then cut it into a frame.

A

Circle cutter will do the job perfectly for you.

The shaker box can be added to any style of card you make. Try adding it to a Flip Card, or the easy Stepper card.

And the Easel card pictured here is another one that is easy to adapt.

All of these cards are available as written instructions and as Video Tutorials.

I hope this will be one card that you will try, and as you gain more confidence with the technique then try removing parts of the image to create the shaker part.

Return from Shaker Card Tutorial to Homepage

Search
Custom Search