Miniature Dress Forms
These Miniature Dress Forms are so trendy at present and can be for your self or to give as a special gift to all your girly relatives and friends. 

They are so fashionable and can be decorated any way you wish.
Add all the "Bling" that you have in your stash and make the shape even more feminine.
I love these and they are so much fun to dress up.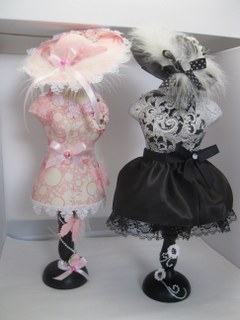 They can be as fancy as you want to make them and these two are done in different ways.
One has the addition of skirts to the form but either one would look wonderful  on your dressing table.
I have put to good use some embellishments that I already had.

 Look to your right for more ides on "Pretty Embellishments"
But you can use feathers, buttons, lace, ribbons and any thing else that you can lay your little hands on.
The Sparkly "Bling" on the black and white form is from Want2Scrap



---
---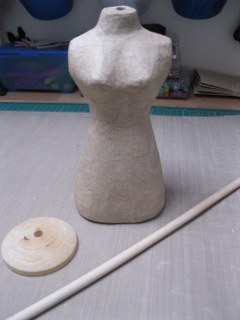 These Dress forms are from  Indigo Blu  and they come in this kit pack for you to decorate yourself.
The link will open another window and take you directly to the page.
But do have look around while you are there for other goodies that are on offer.
The stamps that I used in the video to create the body, are also from the same company.


Grab yourself a cuppa and settle down to watch the short video on the easiest way to decorate the Miniature Dress Forms


For this one I have varnished the stand instead and as I explain in the video I like to give them a hat and so I added a Shaker Peg to the top of them form and this will be used to balance the hat on top.
In the next video I will show you how to create the Dress Form Skirt that will go with your dress form.
And there are two styles of hat ...
Dress Form Hat
Dress Form Hat Another Style
But you could paint yours any colour to blend with your theme.
Just make sure that the form, the base and the dowel are all dry before you go to the next step.
I hope you will enjoy decorating your own dress forms and there is an alternative, try ...

Painting Your Dress Form  
Please add them to Gallery Page when you have so that we can all see your beautiful creations.



Return from Miniature Dress Forms to Homepage