Spellbinders Filigree Delight
Spellbinders Filigree Delight produces the lovely lacy effect that many of us like on our cards and it couldn't be easier to get the look with this pretty die.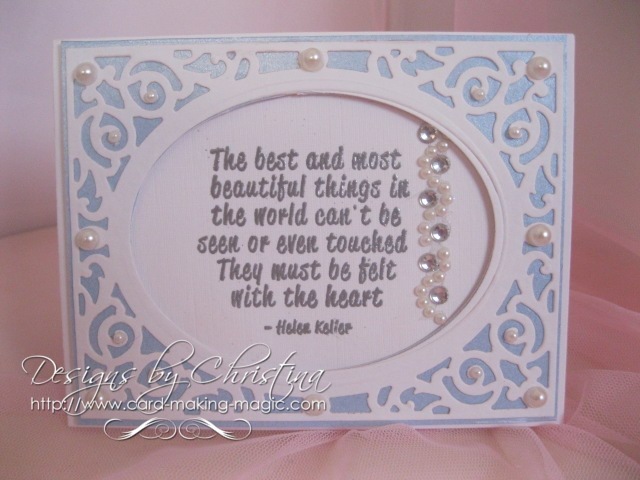 This beautiful die can be used to produce the focal point for your card or create a frame to sit around a lovely verse as I have done here.
Then the embellishments that you add to it can alter the look to suit your recipient.
I have kept this card very simple so that you can the delicate filigree look and although it is a lacy effect die it can still be suitable for any of the cards that you make for the men in your life.
The pearls and Diamante "Bling" is from Want2Scrap
So this is another card for you to try in the A2 Card Creator sets of dies from Spellbinders and some of the others are ....
Floral Ribbon Threader
Locking Loops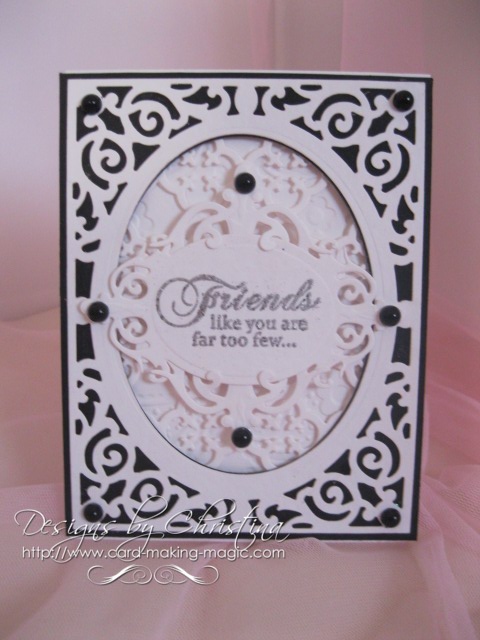 This card is created in Navy Blue and white which keeps it less frilly and girly and more masculine.
Layer other shapes into the cut out centre and add in some pearls.
Simply by leaving off the flowers can make all the difference to you male themed cards.
But whatever you decide to do and whichever way you use the die the results will be sure to please you.
In the coming months I will show you some other ways to make this die ... and indeed any other die  .. work for you.
After all they are not cheap to buy and you need to get your monies worth from each and every one.
But sometimes people buy the dies that they like because they have seen demonstrated or advertised and then once they have that die at home they can't remember how it was used or what the demonstrator said.
And sometimes the packaging tells you nothing on what to do with your purchase nor does it give you any idea of how to make the cards especially if you are new to cardmaking
So hopefully you will allow me to me to be your very own personal demonstrator and let the videos show you how to use this and many other dies.
And then as your confidence grows you will be making cards that you truly love and are happy to add your name too as you give them to your family and friends for any occasion ... with love !!
Return from Spellbinders Filigree Delight to Homepage