The Faux Tile Effect Tutorial
This Faux Tile Effect Tutorial will show you how to get this result for yourself
A lot of people prefer to learn by watching and this short video will show you all the steps you need to take to create this lovely technique for your self.
And this effect will give just that different edge to your cards.
If you don't have a scoreboard then you can still create the embossed lines that you need with a ruler, bone folder and a mouse mat.

This is the card that is made in the video and it is very easy to do.

This pretty "Little Ballerina" is a clear cling stamp from
Lili Of The Valley and they have the most adorable stamps with cute images for boys and girls ... and they have brand new collections being released all year round for all occasions 

You can also get sentiments from the same company and they will also suit any occasion... and they will fit into a standard sized 2" circle punch, or circle die to make life that bit easier for you.

Now If you would rather read how to get the look,  then this is where you will find  the 
Written Instructions.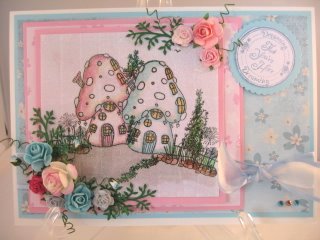 I have coloured this image  with Promarkers in a very pretty turquoise and pink.
The the Faux Tile Effect is added to the whole image, and the flowers are also in keeping with that scheme
The image itself is from a clear stamp by PolkaDoodles and there are different style houses in that collection, so that you can build a whole village if you want to. 
They are such fun to play with and the scenes you can build are endless. 

There are tress in the stamp sets as well as birds, flowers, picket fences, street lamps and a whole lot more. 
I have used these stamps on several cards that can be seen throughout the website. The faux tile effect in the background just adds a different fun dimension to the card.

You can use your favourite medium and it would look equally as good in whatever you decide to colour it with.

I hope you will give this technique a try and I am sure that you won't be disappointed.

 There are many more FAUX effects for you to try in the tutorials section and all are very easy to do.
Just get the old imagination going and see what happens when you play... and most of all have fun because that is what this delightful hobby is all about.
Return from Faux Tile Effect Tutorial to Homepage