Pennant Card Tutorial
This Pennant Card Tutorial will show you how to make this very pretty and simple card in easy steps, so that you will be delighted with what you come up with

Use some of that card that you have been saving and make one of the prettiest and easiest cards you can.

It would look very special with some foiled card, or maybe you would like to add embossing before you start to add the borders to the Pennant.

This very short video will show you how to get the look without any special equipment.

All I have used is a border punch ... or some fancy edged scissors would create the same effect.
Many people prefer to read instructions and if you are one of them then this is where you will find the easy, step by step written instructions for this lovely Pennant Card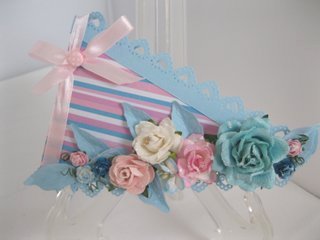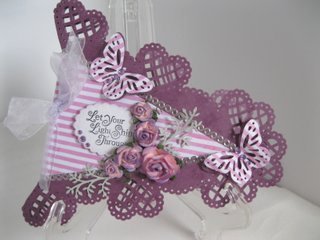 Once you are happy with the look you have then how you send the card will depend on the size of the border that you have added.

Both of the pictured cards are created in the same way but the top card has used a narrow edge.
This one has had a really deep edge punched and added along it and so this card looks much bigger than the top one.
And both punches are from the Martha Stewart range.

So once you have finished your design then you will be able to decide the size of the envelope that you will need ... or better still why not make a box and decorate it to match the card.

The gorgeous flowers on both cards are from Wild Orchid Crafts

Flowers of any description always add the finishing touches to my cards.

But you could add feathers or gemstones or anything else that you can find in your "Stash"

Happy Crafting

Return from Pennant Card Tutorial to Homepage

Search
Custom Search