Spectrum Noir Dark Skin
Part 1 of this video Spectrum Noir Dark Skin will show you how to easily get the darker skin tones that you may want for your images.
Part 2 will show you how to complete the card for beautiful results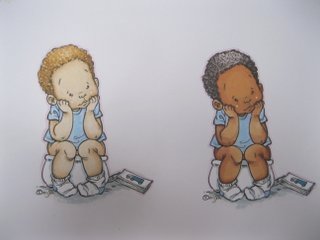 This is the same image "Boy on a pot" from Mo's Digital Pencil.
Using the Spectrum Noir pens from Crafters Companion it has been given a completely different look.
The image on the left was covered in the Tutorial Spectrum Noir Pale Skin
That showed you how to get the peaches and cream look for the baby images that have been used.
But in this tutorial I wanted to address the problem, that many of you have emailed me about, and that is how to get a fabulous blend with the darker skin tones.
And of course using the different browns in the sets will give you any shade you want to achieve and the principal of Spectrum Noir Dark Skins remains the same.
You will find lots more information on the pen system in Spectrum Noir Introduction and they are a serious contender for the crafter looking for a good deal.



---
---


Part 1

---


Part 2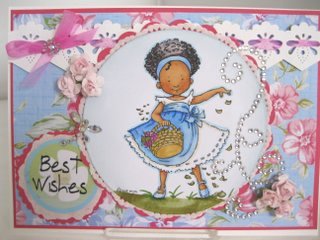 This pretty card is created from the image "Keisha" available from
Mo's Digital Pencil.
It has been coloured following the same system and once you have practised with the pens you will see how easy it is to get the look.
I love the look of the finished card and it would be suitable for any occasion
I hope you will give these pens your best shot as they are such a pleasure to work with and the cost of them puts them into the reach of many more people.
Alcohol pens will give you a professional finish and colouring is such a relaxing way to spend some time.... think how many hours you would spend colouring when you were a child ... lost in your own little world.
Return from Spectrum Noir Dark Skin to Homepage