Spellbinders Bauble Blossoms
Spellbinders Bauble Blossoms has been made as a Video Tutorial in response to  requests from my readers on how to make these beautiful flowers to adorn your cards
I love to add flowers to my designs and you will find many tutorials on the website on making them in various ways.
Or perhaps you have already bought it and you have been disappointed with the result ...  as the die has not produced the sort of flowers that you thought it would.
This beautiful Fairy Baby image is from Mo's Digital Pencil
---
---
There is nowhere on the packet that tells you how to make them and so it is trial and error until you get the effect you want .... or maybe you have simply discarded the die in sheer frustration.
Well despair no more because I am here to show you how and I have done some "trial and error" for you.
This is the way that I make the flowers and it could work for you too.
This short Spellbinders Bauble Blossoms video will give you the guidelines that can help you to make some beautiful blooms for your cards.

I have used three of the blooms on this card from each of the different dies and the flowers are all sprinkled with Glamour Dust.
I have used a self adhesive pearl in the centre of each that blends with my colour scheme.... and they are from Want2Scrap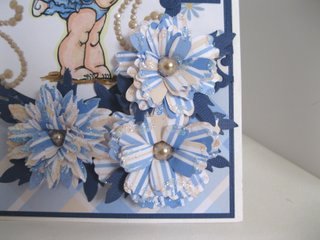 The effect with the pearls was a happy accident but I liked the look once it was done... and I included it on the tutorial in case you like the look too. 

If you are stuck over colours then take a look at two videos that will show you how to blend colours and patterns together in a way that pleases you.

Cardmaking-Choosing Colours
Cardmaking-Matting and Layering
And if you do like the look of Spellbinders then you will find many videos to help you when  Starting your Spellbinder Collection 

That is the first video that will send you on a journey of discovery into these fabulous dies and once you start collecting ... you won't stop !!
Return from Spellbinders Bauble Blossoms to Homepage