Spellbinders Heirloom Ornament Tutorial
The Spellbinders Heirloom Ornament Tutorial is yet another idea that you can adapt for your Christmas Decorations ... but it can also be adapted for any occasion where you may need something Special.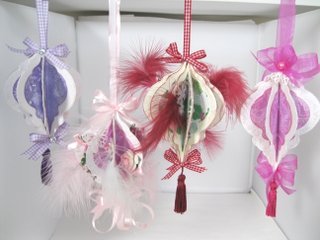 Do you like to add decorations to your home and you are sometimes stuck for ideas?
Well here is another tutorial on how to create more pretty ornaments in time for Christmas or any other celebration you may have.
The Christmas Decorations Video showed you one way to make these special items in easy steps
Here is another idea you may like to try.
This one uses the Spellbinders Heirloom Ornament and the latest one added is the Spellbinders Square Ornament Tutorial
They are all very easy to make and can be adapted for any occasion... one of mine is for a summer event but they would be excellent for a wedding too.
Make them in white and the color theme of the wedding .. and decorate with tulle, feathers, diamante and strings of pearls for a really luxurious look
And use white satin ribbon to hang them  from a table centre piece
---
---
The video is not long but will take you step by step through what you need to do to create this look for your self.

And the added "Bling" is from Want2Scrap and is the perfect embellishment to any card.
But although I have used this particular die for my ornaments don't be afraid to experiment with any shape that you have in your personal collection of dies.
This method would work just as good with Scalloped Circles for the outside and plain circle for the centres.
And very shortly I will be adding another video that will make your square dies work just as well for this kind of decoration too.
All you need to do is play and experiment and make these dies work for you ... and look at them closely for ideas using them outside the original thought for every single die that you own.
There are many many ways to use each one and that way you will get your monies worth from the purchases that you have made. Cut them up, turn them round, use them upside down in fact any way you can think of to get the most from them  
So this Spellbinders Heirloom Ornament Tutorial will help to expand your repertoire a little bit more and give you something pretty to hang in your home this year.
Return from Spellbinders Heirloom Ornament Tutorial to Homepage