Spellbinders Grand Decorative Ovals
Card 3


Another beautiful card ... Grand Decorative Ovals Card 3 is still using these large dies from Spellbinders.
This is another creation that is sure to delight you ... and the recipient that is lucky enough to get a card from you.
It is also suitable for many occasions and you can the dress the card accordingly. 

This card is made somewhat differently to make it free standing but the video will take you step by step through how to get this look for your self.
It is an idea that can be used on many of your card and it saves you the hassle of adding in an insert.
There is ample room on the back of the card for you to add a verse, sentiment and sign it with love.
Please don't get hung up on sizes as  the only measuring is for the inside concertina part and 2.5 cms is roughly one inch.

The other ideas in this little series are ...
Grand Decorative Ovals Card 1
Grand Decorative Ovals Card 2
Spellbinders Grand Ovals



---
---
The tutorial is not long but it will give you another card to increase your confidence and and add to your skills as a card maker extraordinaire.
Grab a cuppa .. and maybe a biscuit or two, and then sit back and  enjoy the
Grand Decorative Ovals Card 3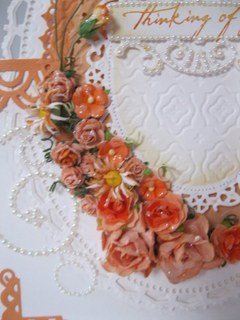 The selection of beautiful flowers are from Wild Orchid Crafts  and I love to add them to my designs.  
I also like to add glitter to the petals for that added extra touch of luxury
The Pearly Swirls are from  Want2Scrap
I openly admit to being a ... "More Is More"  kind of Crafter and all these embellishments are what make a card so individual and personal.
But it is only my ideas and of course you can add whatever you like to your designs and make them in your own unique way ... and as you progress you will develop your own style
I always tell you to enjoy what you are doing and relax about it. 
Card making ... indeed any hobby ... should be enjoyable and fun.
And after all it is only card and paper so if you don't like it then you can easily start again.
Do what I do and always have a DRY run first with any embellishments ... and then if you don't like the arrangement nothing is lost.
Just move them around until you do ... and then glue them in place.
I use a heat gun to add my flowers and that way I know they will stay in place.
Return from Grand Decorative Ovals Card 3 to Homepage