Cards for Posting

Create cards for posting without compromising on the style that you have developed.
I like to make card with lots of flowers and ribbons on them but the height involved in that type of card places restrictions on posting as often they are too deep to fit into an ordinary envelope.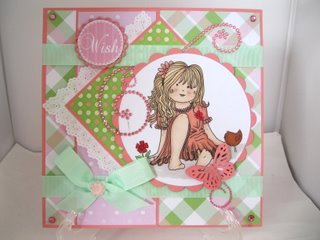 Making Boxes solves the problem for many of them, but if you want to send cards to other countries then this may not always be cost effective.
And so making a card that is flat to fit into an ordinary envelope is the answer.
---
---
The video shows you two techniques ... One is how to make the card flat enough to go into the envelope.
But the other is an interesting way to finish the back of the card, without the need for an insert and to make the card stand alone.
The verse and the sentiment can be added to the back instead and thereby reducing the bulk in the card even more.
Although the card in the video is a big card this method ... for both the finish and the flatness can be adapted to suit any size card that you make.
I am enjoying making the bigger cards at present but the smaller variety look just as pretty, and just because it is smaller or flatter doen't mean that it has to be any less embellished.
The Gemstone swirl is from Want2Scrap and you can get many beautiful designs that can be added to your cards.
Use your imagination when applying them and don't be afraid to cut them up to see whatever it is you want to do on your design.
Play, have fun and make the most beautiful cards for posting.
Return from Cards for Posting to Homepage