Spellbinders Matting Basics
Spellbinders Matting Basics can be the start of a beautiful design and take all the worry away of any measuring you need.
If you like to have regular shapes for your base then these are jsut what you need.
Now I hear you asking ... Why would I need dies to cut just a basic shape? and why would I need two sets that are the same?
Well the simple answer is they are not the same and they will give you a really neat and professional finish to every card that you make.
Set A is slightly bigger than Set B and so the size of the border that is left can be varied.
If you cut the card using one set only then you will have quite a wide border around the edge ... and that may be the look that you want.
But if you then start to marry the two sets together then the border around the edge will be smaller and that is what some people prefer.
They will also leave a really neat embossed feature around the edge of the card that you cannot get if you cut the card by hand.
So sit back and relax and let the  video show you the way to get the look that you want for your creations, and always make cards that you can be proud to give ... or sell.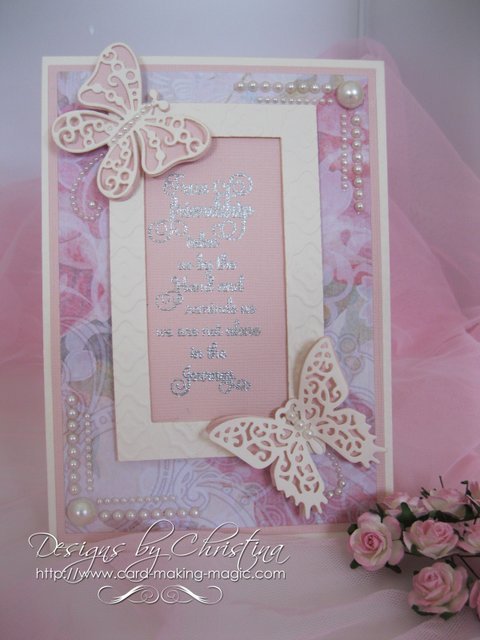 Here is a card created using nothing other than Spellbinders Matting Basics  and two butterflies from the Les Papillion set.
The simplicity of it is what makes it lovely.  
The backing paper is from the Floriography CD and the pink card is  
ColorCore Cardstock by Core'dinations
The addition of the pearls is the finishing touch and they are from Want2Scrap
The verse on the front is from Oyster Stamps and it is the "Good Friends - Labels 29" set from JustRite
The flowers are from Wild Orchid Crafts
This particular stamp set has a matching  Spellbinders Labels 29 die to it and will give you a perfect frame for the verses on the stamp plate.
Return from Spellbinders Matting Basics to Homepage