Spectrum Noir Clothes Part 2
Spectrum Noir Clothes Part 2 will show you some little tricks with the Blender Pen
This short video will show you how to get the blend correct for the image that we have been using throughout these tutorials ... and in particular some tricks with the Blender pen.
This particular pen causes some people a lot of problems.

Mostly because it is the wrong way to describe it.
The blender pen will not blend two colours together and can make a real mess of your project in the attempt.
It will do lots of amazing things but mostly it will bleach out colours rather than blending them.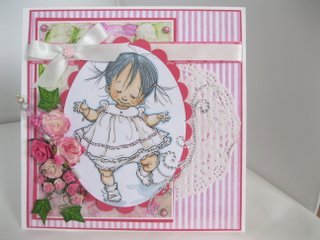 But with the bleaching effect of this pen you can get some lovely effects on your images with very little effort.

Over the course of this series I will show you other ways to get the best from these pens and then you will not be disapointed with what you produce.
But like all new things it takes time to learn about and get used to using a new product ... so give yourself a break and remember to be patient as you learn.
One main thing to take into account is that if you are not happy with the look that you are creating then it is NOT the pens that are to blame.... it is the PAPER that you are colouring on ... and the Introduction to the pens will explain further.

Spectrum Noir pens and pencils are available from 

The other videos in this series are
Others will be added in the coming months to help you with colouring, so I hope you will come back and visit to keep up to date.
You will find other mediums to colour with and information on how to use them in Colouring In
And there is a three part series to help you with water colouring using your Distress Inks
This is a medium that many of us have to add an aged look to our cards but one that is often overlooked as a way to paint with, and yet the results can be so pleasing and another string to your bow.
But for now lets try these wonderful pens and enjoy the lovely results that we can get and the short video Spectrum Noir Clothes Part 2 will help you along the way.


Return from Spectrum Noir Clothes Part 2 to Homepage