Starting Your Spellbinder Collection
This video Starting Your Spellbinder Collection will give you some idea of which dies to purchase as a starter set
There are so many to choose from that it can get very confusing which to buy first, and there are new ones coming on to the market all the time.
Because of the cost many people think they are beyond their reach.
And so my idea is to give you as much help as I can so that you can make an informed decision before you go out to buy, and not spend your hard earned money on dies that you don't know what to with.


But they are such a versatile product and they can add some lovely shapes to your creations.
And because of this Spellbinders are well worth considering.
Then to make sure you get the most from your collections I have included more videos using other sets.
And if there are any that you would like to see featured let me know ... and if I have the set then a video will follow.
Storing Your Spellbinders
More From Your Spellbinders
Flip Card with Spellbinders
Aperture Card with Spellbinders
Spellbinder Special
Big Cards with Spellbinders
Gatefold Card with Spellbinders
Felt Flowers with Spellbinders
Alternative Spellbinders
Pleated Card with Spellbinders
Nestabling and Spellbinders
Spellbinders Oval Frames
Pierced Edges and Spellbinders
Spellbinders Bauble Blossoms
Spellbinders Christmas Decoration
Spellbinders Poinsettia Flower
Spellbinders Bracket Edge Box
Creating a Frame with Spellbinders


In this video Starting your Spellbinder Collection I have tried to show you how, with just a few of the dies, you can produce some cards that you can be truly proud to give.
And each of the cards featured uses the same sets of dies... just a different colour to make the change.
On this card you can see the lovely Hatpin and for how to create these take a look at
---
---
The dies that have been used to make these cards are
1. Labels 20
2. Parisian Motifs
3. Parisian Accents
4. Classic Bracket Edgeabilities
5. Spiral Blossom 1
6. Foliage
7. Flower Delight Impressabilities

You will need the Grand Calibur Die Cutter to use the Flower Delight Impressabilities as it will add the texture to an A4 card in one go.
But the other dies will all go through any Die Cutting Machine

You will need to read the makers instruction booklet for your machine to find out which plates to use to get the texture.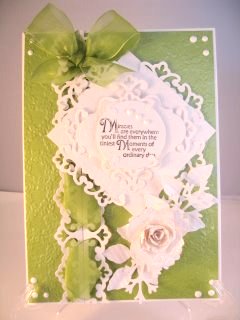 But I know that once you have seen
Starting Your Spellbinder Collection
you are going to buy some.
And you won't be able to stop as you will be so pleased with the cards you produce you will just want to make more and more.
I will be adding videos on some of the things that you can do with these dies and I hope they will help you to make even more choices about the ones you will get.
Don't forget to visit  Spellbinders  website for up to date dies as new ones are added all the time 

Easy Projects

Cardmaking Tutorials

Useful Resources

View all Pages and Topics

Return from Starting Your Spellbinder Collection to Homepage