Enamelled Rose Tutorial ...

will take your flowers to another level
Try this Enamelled Rose Tutorial for spectacular results to paper flowers.
It will turn them into something truly special to add to any of your projects and you don't need to stop at roses.
Try paper Carnations or Cherry blossoms for another look and you won't be disappointed
Make them in other sizes too and group them together on anything you are altering.
 They would look beautiful around a picture frame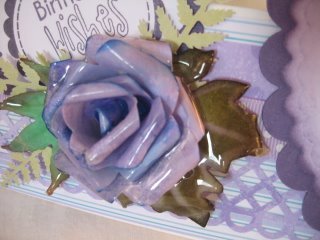 This beautiful flower looks just like glass, and it dries quite hard once the effect is cool.
Here is the tutorial for the basics on how to make the template to create the flower and the flowers themsleves ... just click the link
For the Written Instructions to make the Paper Roses.


If you are someone who prefers to learn by watching then here is the Video Version for you of the  Paper Roses Tutorial
Both pages will give you the steps to make the flowers, and the different ways you can make them really pretty.
Make them from patterned paper for an extra special look
---
---
This next technique that I am sharing with you takes these flowers to another level altogether and it will please you immensely.
Let the video tutorial show you how but please take care because the liquid gets ... very very hot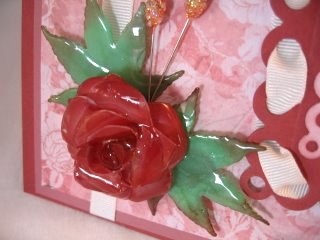 The foil dishes are quite cheap to buy and if you take a look in the "Pound Shop" you can buy a pack of maybe 10 for your £1.
You will need something to hold it safely, and I cannot stress this enough that the liquid gets extremely hot
Don't drop it on either the work surface or your skin.
It will burn you 
But don't be afraid to try it ....just take care.
Probably not a good one for the kids to do by them selves.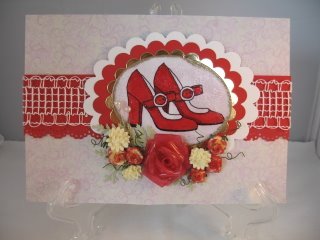 Make your flowers in different colours and store them safely until you are ready to use them, and if you bend the petals once they are cool the glaze will crack.
Once you are done making them don't throw away the cooled solution.
It will dry hard but to use it again all you need to do is simply reheat it with the  Heat Gun and it will be ready to be used again
And please don't forget to add your photos to the 

Cardmaking Gallery 
and show us what you have achieved 
Cardmaking Techniques

Ideas

Easy projects

More Projects

Occasions

Papercrafts

Return from Enamelled Rose Tutorial to Homepage