Pleated Card with Spellbinders
 The centre is made freehand but the Pleated Card with Spellbinders is using the same introductory set of dies

The Foliage and Spiral Blossom are the ones that give the beautiful effect with the flowers.

They are the ones that I have used throughout the whole Spellbinders Series of video tutorials.

If you are new to these dies, and you love the look they can give then this set is a good basic set to start with.

And then you can move onto the other ideas in the series as you gain your confidence working with them.

This card is very easy to make and you are sure to love the results as much as I do ... and it will certainly get the comments it deserves when you give the card.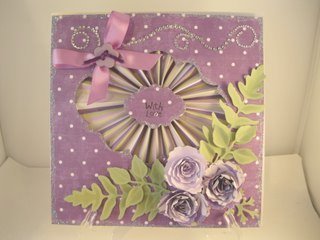 Get your favourite cuppa, sit back and relax and let the video show you how to get this look for yourself.

Look at the embellishments that you have in your "Stash" and you can alter the look to suit yourself.

Ribbons, glitter and gemstones can make all the difference to the look, and you can match that look for your intended recipient.

The Gemstone swirls on both of these cards are the Nestabling from Want2Scrap

Because of the depth needed to build the card then the ideal way to send it would be in a box.

Make it deep enough so that the flowers and sides will not be damaged in the post.

I hope you have fun making this card and don't forget to add your creations to the Gallery Page

Return from Pleated Card with Spellbinders to Homepage

Search
Custom Search