Spellbinders Pop Up Box
Create this beautiful Spellbinders Pop Up Box and then dress it up as you wish for a lovely effect that will suit any occasion.
Scroll down the page and let the video tutorial show you the steps to take
This pretty little box can be for any occasion and just imagine what a beautiful wedding card it would make.
It is very easy to do and the whole item is cut from the Scalloped Pop Up Box die template from Spellbinders.
Once you have all the element ready then comes the fun part, and you can start to assemble the box
For mine I have chosen to add flowers, ribbons and pearls ... but you can add any thing that will suit your recipient.
Balloons are always a favorite with children, and they can spill out of the box in many colors
Butterflies are another item that is always well received and you could have them fluttering out of your box by adding them to acetate
The Spellbinders dies I have used to create my box are ...
Scalloped Pop Up Box
Foliage
Les Papillions
Flower Bundle
But if you don't have or cannot get hold of any of these dies then that shouldn't stop you from creating this project and here is another version of how to get the look without using any dies for your own ...
 Pop Up Box
Cut the box from white card and add in your prettiest papers for the panels to add more interest.
Or you could simply cut the box base from fancy card and save the step of adding in the paper panels.
But the Trellis decoration makes it really stand out and you can of course add them wherever you wish.
The video will show you the steps I took to create my design.
But because this can be seen from all angles don't forget to decorate the back too.
I have wrapped mine in some lace and ribbon and used a shiny centrepiece for the knot in the bow.
And because of all the leaves that have been placed into the centre of it the workings cannot be seen.
I hope you will give this lovely Spellbinders Pop Up Box a try...
And although it may take you some time to cut out the things that you wish to add to it,  the box itself is not hard to make
Try darker colors and different types of flowers for your project.
And any flowers that you don't use can always be saved to add to something else in the future.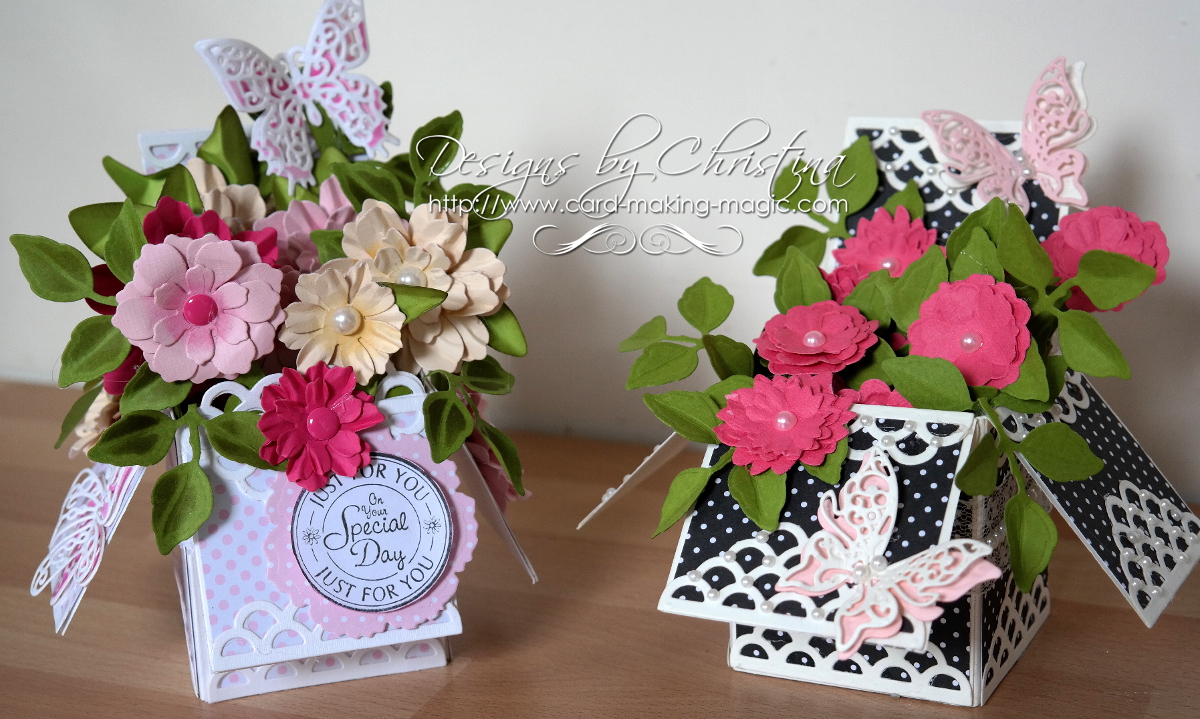 Once your box is completed you are going to need something to put it in to give it to your recipient so here is another video tutorial to show you how to
Make extra flowers that you can add to the lid and then you have the matching look for both items

And don't forget that you can add any of your projects to the Gallery Pages for all your friends to see
It is very easy to do but you will need to add something about how you made the card and a little about your self.
Return from Spellbinders Pop Up Box to Homepage