Adding Texture to Cards
Adding Texture to Cards can transform them from the plain to the exceptional with very little effort on your part
Just a simple design can make all the difference and also enhance the image or the flowers that you also wish to add to the card.
This is where embossing folders come in really useful and there are many designs to choose from
Maybe you have embossing boards that you can use to add that extra touch or perhaps it can be something really easy like using a Card Ribbler on the card.
This will add a corrugated look to your card
I am often asked what is the difference between a Mask and an Embossing Folder.

Well a mask is a single plastic sheet that can be used in a number of ways and the subject of what to do with them was covered in
   Using Masks
The beautiful pearly flourish on this card is from Want2Scrap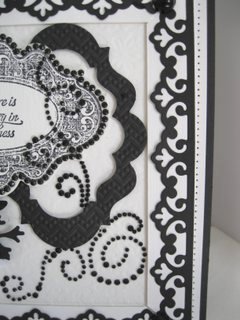 But both techniques are useful for adding patterns and texture to your cards for beautiful effects.
Embossing Folders are thicker and need to be opened so that the card you wish to add the pattern too can be placed inside.
The folder is then closed and the folder will need to be run through a Die Cutting Machine  
You will need to read carefully the instructions for layering up the cutting plates for your own personal machine for adding texture to cards
And as each machine is different I cannot list them all here.
The Tag to this card has been in an embossing folder and the result enhances the flowers that have been added to it.

There are a million and one embossing folders for you to choose from ranging in size from the smallest US/A2 size right up to our UK/A4 and everything in between.
There are so many patterns to choose from I couldn't possibly show them all here. But below you will find a small selection for you to see from companies such as myself, Apple Blossom, Spellbinders and Altenew 
The featured card in the video is a large 8" square and the beautiful image is from the Sugar Plum Daisy CD from Polkadoodles and not the Candy Doodles one mentioned in the video.
(Stupid Me !!)
The panels on this card have just had the papers textured and even that small change can make the look better.
If you find that your paper splits in the folder then you could try adding it between sheets of copier paper to prevent that.
The embossed copier paper will also have the pattern and  can then be used on another project
So I hope you enjoy the video and will take a look at some of the others too.

There are some really lovely embossing folders that will suit any theme that you are making for male of female cards.
And there are even 3-D folders that will help you in adding texture on different levels for a really deep look.
Don't forget that you can also try the Letterpress Technique  with any of the folders for more texture to any of your designs 
If you enjoy my pages then please consider adding your email to the
Return from Adding Texture to Cards to Homepage