Spellbinders Grand Ovals

Make the very best from your Spellbinders Grand Ovals and create the most beautiful cards that you can 
Your recipient will be delighted with the card and you can sit back and glow in the praise from your creation.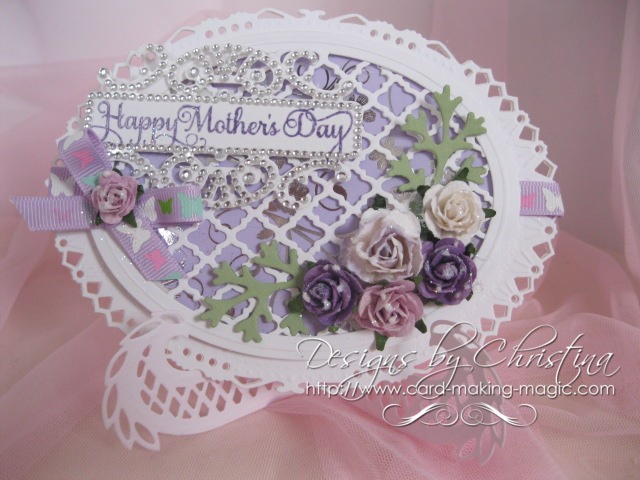 The Grand Ovals can be used in many ways to add that special something to your cards and the video tutorial will show you how to create another style to add to your repertoire.
The others are ...

Grand Decorative Ovals Card 1
Grand Decorative Ovals Card 2
Grand Decorative Ovals Card 3
In this set of dies from Spellbinders you will find the Grand Decorative Ovals, Grand Scalloped Ovals as well as the plain Grand Ovals and all of these will work together  and will help you to produce a really stunning card.
Use them as an addition to another style of base card or make them completely into the base and build from there.
I have used elements from all three to produce the cards
The beautiful flowers on this card are a collection of roses from  Wild Orchid Crafts  and they have the addition of a fine glitter to make them sparkle 
---
---
The video is not long but will give you another way to use these versatile dies.  Then how you add the decoration will  be determined by the occasion for which it has been  created.
The card above has been made as a Mothers Days Card and added to a stand.
The stand is from Joy Crafts but I now have one in my own
Card Making Magic Collection  
The smallest die from the Grand Decorative Ovals is the perfect size to fit onto the stand without it falling over.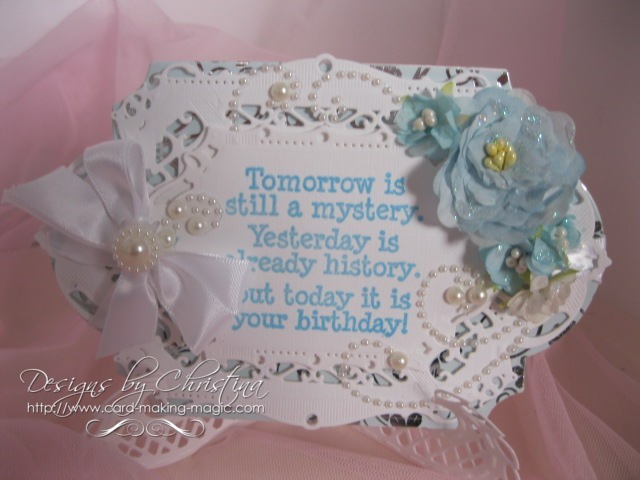 The sentiment on this card is from Crafters Companion and is part of the Sentimentals Range
I have stamped it in turquoise and then embossed it in clear fine detail powder.
This is much easier then embossing with colored powder and having specks of it on your work.
You will find more really useful hints and tips to help you with your stamping in 
The addition  of flowers, ribbons and pearls to your card can make it truly feminine and is ideal for a birthday or Anniversary card.
Or keep the colours more muted and add in typically male items like some string or a few buttons,  for the men in your life.
And although a really lovely card it is very easy for you to make and will elevate your cardmaking to the next level.
New dies are being added all the time but the basics are still essential as a way to make the base of your designs.
Spellbinders Grand Ovals is just one of the many shapes that can help you in your desire to make quality cards ... especially if you sell them
Return from Spellbinders Grand Ovals to Homepage