Spellbinders Locking Loops


Another set of A2 dies and this time Spellbinders Locking Loops is in the headlines.
There are several dies to choose from in the Card Creator series and here are some more idea to make them work for you.
This is another short video that I am sure will make you want to go out and buy this particular die set.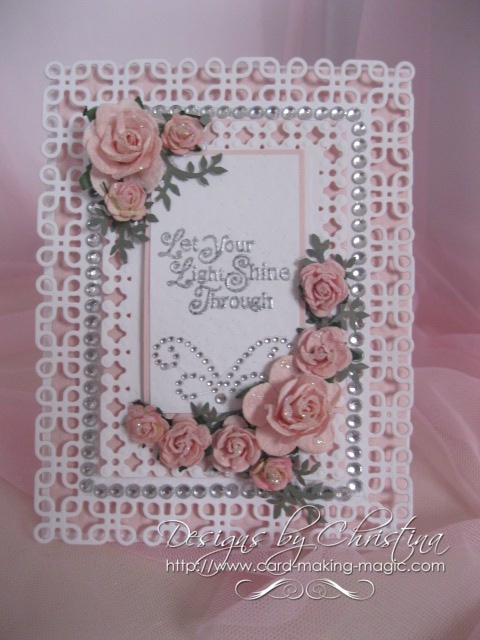 This beautiful card is created with the A2 Locking Loops and all I have done is layer them up on my base card.
The extra touch is the addition of the peach roses from Wild Orchid Crafts  
And the Diamante from Want2Scrap   adds the luxury look to make this a really special card 
The little sentiment is from Lili of the Valley
---
---
Spellbinders Locking Loops is just one of the videos to feature the A2 Card Creator sets.
You may find some of the others interesting too especially if you have the dies and more will be added in the future
Floral Ribbon Threader 
Filigree Delight
So I hope you enjoy the short tutorial and that you will give this and some of the others a try.
It may give you some ideas on which dies to collect if you are looking to expand your collection ... and that will soon grow as using these dies can become very addictive.
You will find many more ideas for Spellbinders  and most of them are in video format for you to sit and relax as you watch.
None of them are long but hope fully all will give you some fresh ideas and show you that you to can create the most fabulous cards with any of your Spellbinders.
Take a look in the Sitemap for the Spellbinders Series.   Click the link and scroll down the page and there you will find lots of ideas for you to try for your self.
And don't forget to add your photos of the finished card to the
Gallery Page
Return from Spellbinders Locking Loops to Homepage