Crossover Card Tutorial
This very easy Crossover Card Tutorial starts off showing you how to achieve the  particular look seen in the photograph, keeping the panels open to produce a free standing card.

But there are several ways to adapt this fold  as you go along to give your creation a different look.
And if you prefer to read then there are the Written Instructions
You can keep the style you like at every stage and decorate it to suit the recipient, and all along the choices are yours to make.

But if you continue with the steps it changes the look of the card and the panels can  all be joined together instead and it becomes the Pocket Card.
Click the link and see the variations you can make to your own designs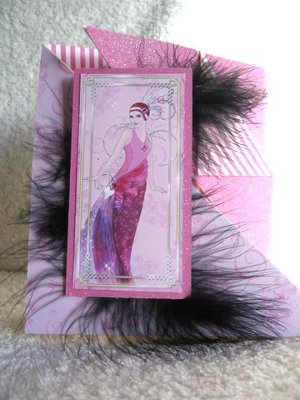 The  short video tutorial will show you how you can change the look at each stage of the construction.
And every time you can create a different kind of card.

Dress it up any way you wish and it will suit any occasion too.
Having these choice when card making  is what will keep your interest in this lovely hobby fresh.
On the video for Cardmaking Ideas you will see some examples of the other styles to this card.
And lots of ideas that you can use to decorate this card and make it personal to your recipient
The ones in the video are Art Deco ladies and I have used many of the Embellishments that I have in my "Stash" 
The images are from a CD by   Debbie Moore Designs

I have used gemstones, ribbons and the use of the black feathers adds a touch of luxury to these very feminine cards.
But with a change of papers and colours this card can be made to fit all your needs for masculine cards too ... and we all know how difficult it is to come up with ideas for a male themed card.
Give me Flowers, Ribbons and Pearls any day ... especially if it's pink !!
You will find all kinds of ideas and tutorials on the website for whatever level of card maker that you are.
From the easy folds that we all start off with to the more adventurous ones we want to try as our confidence grows.
Have fun with this Crossover Card Tutorial  and Happy Crafting!!
Return from Crossover Card Tutorial to Homepage