Filigree Hinged Cards

Using your dies to make beautiful shaped Filigree Hinged Cards will give you a lovely edge to your designs and you can make these with any of the fancy edged dies that you have in your collection.
Look at all your dies from a different point of view and you will see all the many possibilities that are there just waiting for you to bring them out
Don't be afraid to cut your die cut shapes up, turn them round, fold them, extend them, decrease them  ... there are so many things that you can do.
This beautiful card has been created using the  Detailed Scallops with just some foiled paper added to cover the top.
I have added in the pearls from Want2Scrap  around the sentiment to add some embellishment to the front and they match the Fancy Labels Three from Spellbinders
The mixed collection of paper flowers are from Wild Orchid Crafts   and I have used Roses, Tulips, Sweetheart Blossoms and Daisies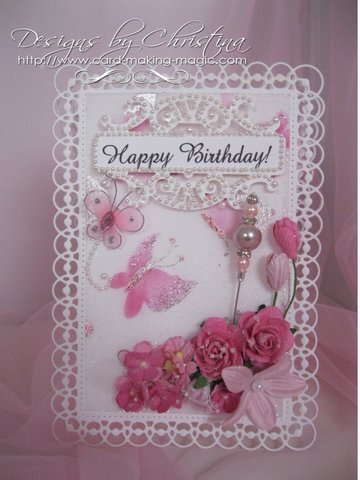 So make yourself that cup of coffee and  sit back to relax as you watch the short video tutorial on how to make these beautiful  cards for your self.
The hinge to the card can be placed on any side so that the card can be decorated in landscape or portrait orientation, but vary it in the cards that you make each time
This one has been created with the Radiant Rectangles and used so that it has the hinge along the widest part creating a Landscape card.
The ribbon has been tied into a triple bow using a bowmaker and a pearl has been added to the central part to cover the knot
They make lovely cards for any occasion.

And because the size is only about 4" x 6" when finished ... and provided you keep the embellishments low key ... it will fit into a standard sized envelope and so save on postage. 

So please try these for yourself.  They are the kind of card that look intricate and difficult to make but once you have a go you will see how easy they are to make
So take a good look at all the dies in your personal collection and see if there are those that can be used to create this look for your card base.

Use the smaller ones to create invitations or Thank you notes. And the larger ones can make cards that will be very pleasing on the eye.

Make boxes to add them too as well for an extra special card.  But enjoy what you are doing and don't be afraid to simply play at creating Filigree Hinged Cards
Return from Filigree Hinged Cards to Homepage