Creating Ink Stripes
Creating Ink Stripes can make for an unusual and unique background for any of your card designs.
Creating a background that will blend with the design that you have in mind can sometimes be hard to achieve with shop bought papers
It may not quite go with the rest of the card and can spoil the overall effect
But if you have some washi tape and some Distress Inks in your crafting "Stash"  then the answer is right there in front of you 

This is one of the many fun techniques that you can add to your crafting repertoire and re visit time and time again
This pretty look can be achieved very easily and the video will show you how to get this result for your self.
Now to create the pattern in the stripes I have used a border die from Spellbinders  but you could try this with any die that cuts the pattern into the card itself and does not remove it
You don't need to add the pattern to every strip .. in fact it is more effective if you don't.
Two or three will do the trick, or maybe add the pattern to every other strip for another look.
The sentiment has been stamped onto some parchment and then wrapped around the panel before adding it to the base card but you could stamp it separately and add it onto another label of you wished.

The parchment I used is quite thick and I got mine from Craft Stash
Make sure that if you use any masking tape that it is of the Low Tack variety so as not to spoil the card that you are working on

Creating Ink Stripes
Once the stripes are on the card you could add water droplets to it and then remove them with a paper towel to give you another blotchy effect for you background.

It doesn't have to be perfect or precise the main thing is that you have fun while you make the card.
The stripes can be variable thicknesses and you can use any Distress Ink colours that you have
Try this with other inks too and the card that I used is just a plain smooth white card stock to help the inks blend 
This effect has been created with mini ink pads and I have simply run the ink pad over the card to produce the stripes.
It doesn't matter if the ink misses areas as this just adds to the look.
The flowers have been stamped, coloured and added to the card with foam pads underneath them to raise them up.
And the Tall Flowers die set is available from Craft Stash
There are lost of ways that you can vary this idea of Creating Ink Stripes all you need is to get your imagination going and play with the inks that you already have, and most of all enjoy what you are doing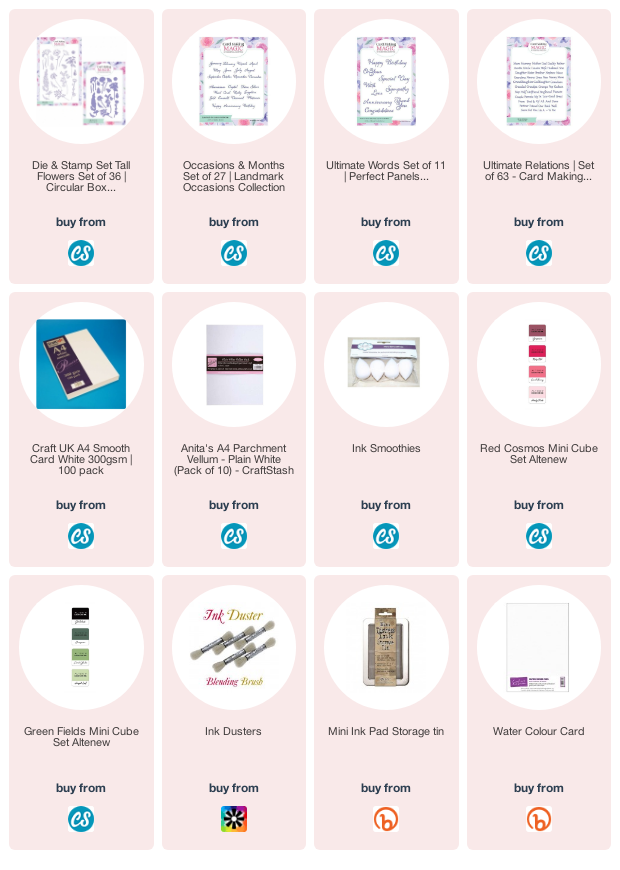 Return from Creating Ink Stripes to Home Page