Brusho Crystal Colours
Brusho Crystal Colours are created in the UK by a Sheffield company and they are so much fun to work with. 
They are so easy and all you need is some water to get the most fantastic results.
Play time has never been so good !
These colours come in little  pots  and they are very intense, transparent crystals that can be used in cardmaking
They will cover card, paper, wood and fabric and they are brilliant for making fantasy backgrounds.
To make this dark sky I have used Ultra Marine Blue and Purple with a tiny amount of black around the edges
When you get them the pots are sealed and my advice would be to simply poke holes in the top of the pot to create a pepper pot look because the colours are so vibrant and all you need is the tiniest amount
Brusho Crystal Colours Tutorials
The amount you sprinkle will be so tiny that you will think there is nothing on your card. But look carefully before you add more because the magic happens once you spritz.
Watch the effect as you spritz it with water and the colours just spring to life. It will surprise you when it happens and the colours are so bright. 
You can leave them as they are or take a paint brush and move the colour around a little. I took a heat tool to mine to dry them off so that I could make the card but you can leave them on one side to dry if you wish.
Once you add the water the colours burst into life and mingle with each other.
For a deeper effect add more crystals or a spritz more water
If you wanted a paler look then you can blot the colours with a piece of kitchen roll and that will soften the look
These  Brusho Crystal Colours  are so much fun to play with and I hope you will give them a go
And if you don't like the effect then you can always start again as you learn just what these colours can do
Experiment with them by mixing your own colours.
And by sprinkling some onto an acrylic block and adding water will let you use them as ordinary water colours.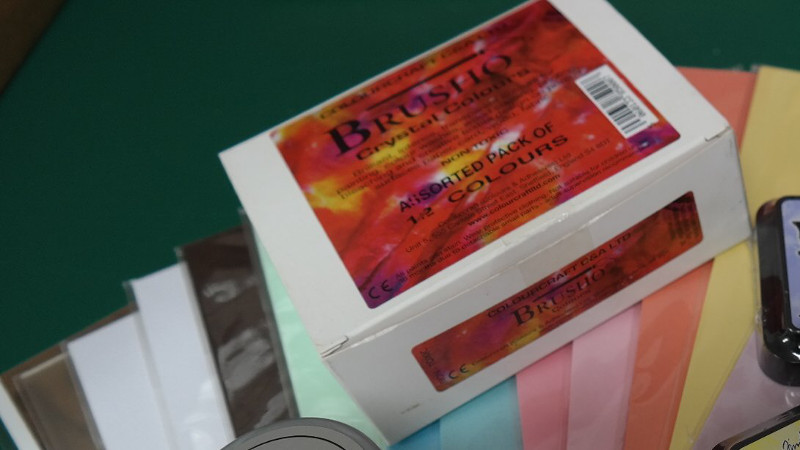 Once you are done for the day allow the colours to dry out on the block and you can reactivate them with water when you need them again so there is no waste with them at all

Use tiny amounts to start and then more as you need it .. at least until you get used to using the product ... Less is more as they say !!
You need to be very careful when painting with them as adding too much at one go will spoil the effect.
Have fun as you play with this wonderful product
Return from Brusho Crystal Colours to Homepage