Getting More from your Spellbinders
More from Your Spellbinders  will take  you a step further on how to use these wonderful dies
Creating beautiful cards is easy ... as all the hard work is done for you but I will  give you some  ideas for what to do with one basic set of dies in the video ...
 
 Starting Your Spellbinder Collection



Then let this tutorial will take you a step further with the same set of dies.
All you need to do is play and get your imagination working and see what you can come up with.
Even beginners to cardmaking will not be disppointed with what they make from Spellbinders




Then once you feel comfortable using these dies you can try your hand at something even more special with these other ideas...

Felt Flowers with Spellbinders
Flip Card with Spellbinders
Aperture Card with Spellbinders
Big Cards with Spellbinders
Gatefold Card with Spellbinders




---
---
Lets recap on the dies suggested as starters to your collection ...

Impressabilities ... Flower Delight
Borderabilities ... Classic Bracket
Nestabilities ... Labels 20


Shapeabilities ...
Parisian Motifs
Parisian Accents
Floral Blossom 1
Foliage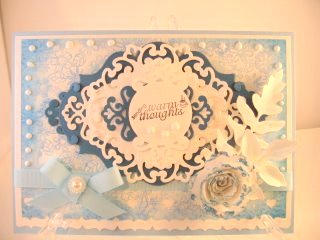 So from that set of dies you now have yet another idea to increase your cardmaking skills.
When you first get your die sets start by cutting them all out in some plain white scrap card and then you will be able to layer them up,  seeing which goes with which other,  and play around without wasting your good stuff.



I promise you,  you will probably run out of time before you run out of ideas.
Once you are happy with your results you could cut them from different colours in your better cardstock ... and play some more 
Then if you keep all these cut out shapes in a safe place you will always have on hand some die cut pieces that you can use to make even more beautiful cards
Spellbinders are bringing out new dies all the time and they are becoming more intricate and lacy with each one. 
Some of them produce the most beautiful shapes and would look wonderful gracing any of the cards you make.
Choose carefully as you add them to your collection and they will all work with each other throughout the collections.
Return from More from your Spellbinders to Homepage