Hair Gel Pocket Card
Have some fun with this Hair Gel Pocket Card which is sure to delight your children whatever their ages
The next time you go shopping have a look for some cheap hair gel that has the bubbles inside it.
It will look like water in the tube especially if it is blue, and this needs to find it's way into your shipping trolley so that you can have some playtime once you get home 
With this stuff we can create an underwater scene for you to add all kinds of creatures too, and your children will be amazed at how you got the water in there ...
Ssshhhh! Don't tell them that it is hair gel though just keep them guessing at how clever you are
The video tutorial will take you step by step on how to make this intriguing little card and you are going to need some small plastic bags to add the hair gel too.
I got mine from Staples and there are lots in one pack so you could share them amongst your crafting group if you are part of one.
Just make sure that the bag is well sealed once you ahve added the gel or it will ooze out of the pocket 
The cute little Dolphin stamp set that I have used is called Make A Splash and it has a matching die set to go with it that you can buy separately.
Both are from the UK company
Clearly Besotted
This is another fun technique that has been around for some time and it is not one to get stressed about. 
Card making should be a fun and enjoyable pastime and one that you can do with your kids too.
It is a wonderful way to spend a wet weekend when they are getting bored ... just get out the crafting stuff and away you go.
So I hope that this Hair Gel Pocket Card is one that you will have a go at.
Maybe you have fish or an Octopus that you could add to yours.
And how good would it look with a mermaid popping up out of the depths to take a peep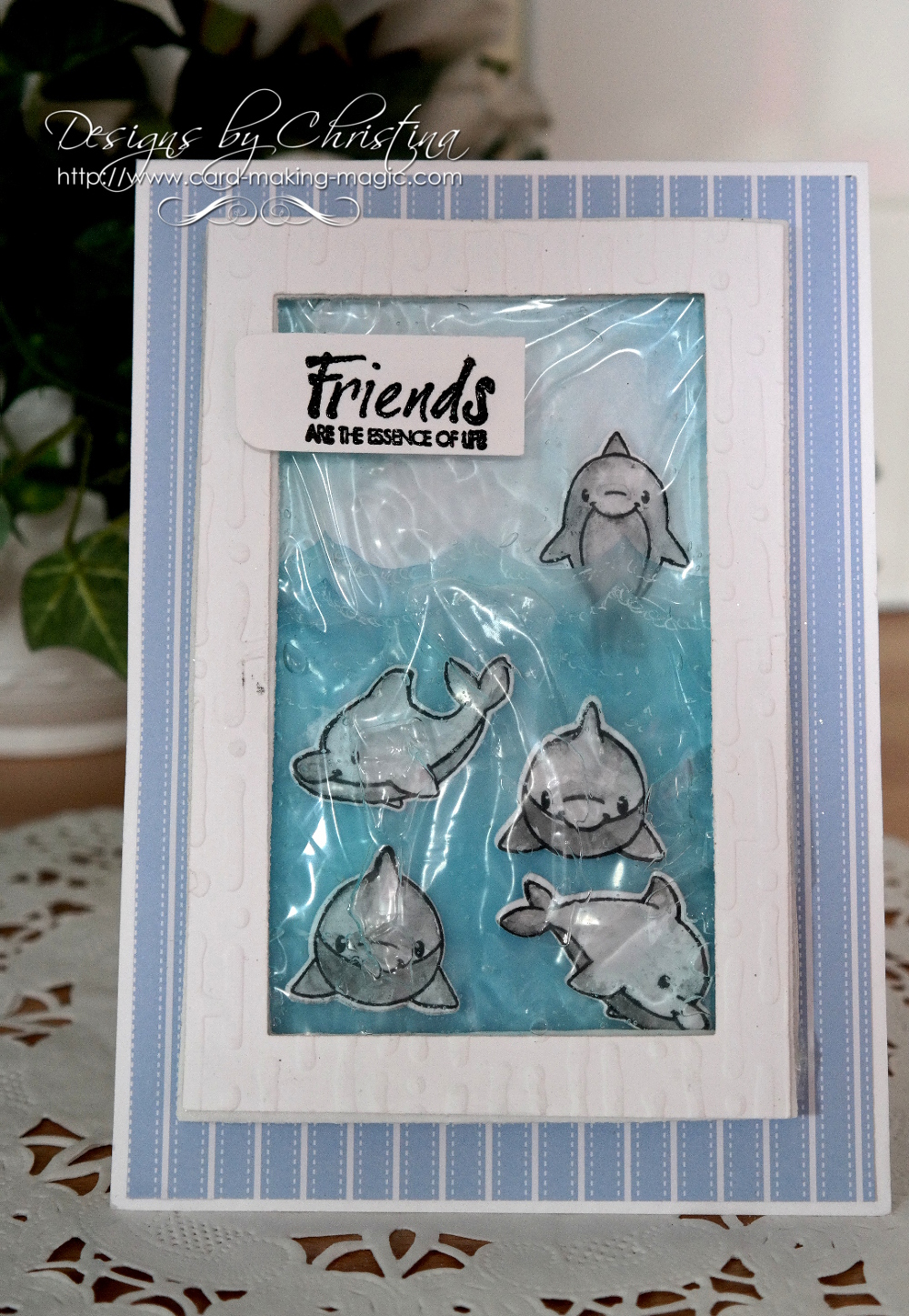 There are lots more fun techniques that you may like to try and you will find them all in the Sitemap  which is simply a list of all the pages on the website
Just click the links of the page you are interested in and it will take you there. And don't forget that you can add the photos of your own projects to the Gallery Page 
It is very easy to do and you can up to four different photos or four of the same project from different angles.
Return from Hair Gel Pocket Card to Home Page