Making Boxes Tutorial
 Do you like to add height to your cards? The Making Boxes Tutorial is just for you.

Flat cards have their place in the cardmaking arena and often this is the type of card you need to suit the occasion, especially if it is to be posted.

You will have no problem getting these into an ordinary sized envelope, no matter what the size of the card is.... but maybe you are like me and just love to add all the embellishments that you can.

I openly admit to being a "more is more" kind of girl and I love to add stuff to my creations.

Flowers in particular cause a problem because of the height in them and they can be a real headache to find something to send them in.

This is the very beautiful "Maude" with all her lovely flowers and they just wouldn't go into an envelope of any size.

I make many cards that have the same kind of dimension and making boxes to send them in was the answer.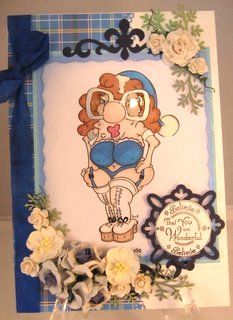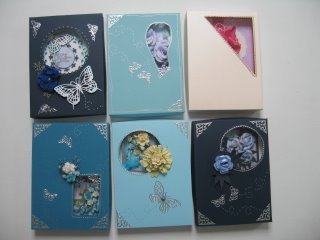 A Scoring Board may be the answer for you and in that case you will already know how to make a box using one.

But not every body has one and so this Making Boxes Tutorial will show you how to make them for yourself.

The most popular card size is the A5, and this is created by simply folding the A4 card in half without any cutting or trimming.

So let's see how to make a standard A5 box to put them in.

The Video Tutorial will take you step by step through the process and at the end you will have the most beautiful boxes for all your cards.

Making the template gives you the opportunity to practise making boxes before you let yourself loose on all your good cardstock.

If you keep it to one side then it will be there for any future reference that you need.

I have added both the Metric and the Imperial measurements to help you but don't mix the measurements.

Use just one or the other when making your box.

And I don't think I have made it clear enough in the video, so I will stress here that it is far easier to decorate the front of the box before you start to glue the sides.

Use a wet glue for the glueing as the last thing you want is for the box to fall apart in the recipients hands ....very embarassing....

You will find examples and instructions to make other sizes of box and the links are at the bottom of the page.

Click them to go to another page for "How2's" on them.

I hope you enjoy the Making Boxes Tutorial and put it to good use for all your designs.

Return from Making Boxes Tutorial to Homepage

Search
Custom Search